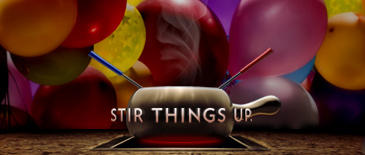 Hi there folks! As you can tell I am in a bit of a festive mood! And why do you ask? Well its because earlier this year I myself turned the ripe old age of 30, and I have another friend that is also celebrating a 30th birthday along with me!
Yes folks, back in 1981 two of the greatest things ever happened! One being my birth, and the other, the doors opening at the first
Melting Pot Tampa Bay
restaurant! Thirty years ago this month - The Melting Pot of Tampa opened it's doors to fondue craving Tampa Bay area residents and visitors!
Now in true Melting Pot and Jerm style, we would both like to extend some gifts to you to celebrate this 30th anniversary!
Join them all month long starting today for a 4-course fondue dinner for $30 per person. This 30th anniversary menu is inspired by the original menu from 1981:
Choice of Cheddar Cheese Fondue or Swiss Cheese Fondue
Choice of House or Caesar Salad
Entree to include filet and shrimp
Choice of Pure Milk, Dark or White Chocolate Fondue
You get all of that for a mere $30 per person! Remember folks, that there are no substitutes for this menu, as that would take all of the fun and nostalgia out of it!
Now in true Jerm style, I am gonna give one lucky person a chance to dine at Melting Pot and enjoy this amazing special on me! Answer some trivia for me to day and you will enter yourself into win two $30 gift cards so you and a special person can go out and enjoy yourselves on Jerm!
Now as always, all you have to do is answer some trivia for me on
Facebook
and/or
Twitter
trivia and you will enter yourself in for a chance to win! Enough of my babbling, let get to the trivia!
True or False: There are 27 Melting Pot Locations in the state of Florida?
In celebration of National Cheese Fondue Day on 4.11.11, name step two of how to get free cheese fondue from Melting Pot restaurants.
In webisode 19 of Chef's Corner with Chef Shane, what brand of beverage does Chef Shane use as the first ingredient in his Irish Aged Cheddar Cheese Fondue?
Okay guys there you go!Get to answering and we'll announce the winner later this afternoon! Thanks for playing along and stay tuned in for more updates on things to do in Tampa Bay and Tampa Bay area events!