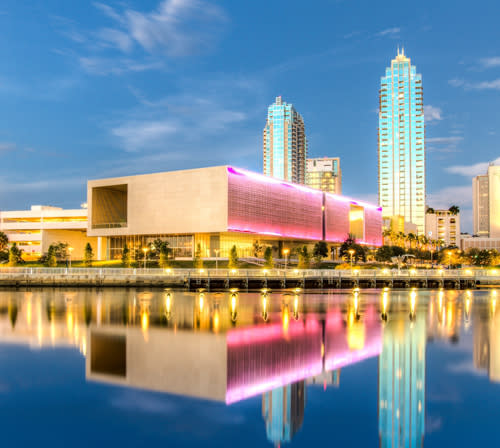 The Tampa Museum of Art turns 5 on Friday, and we're all invited to the party!
There'll even be cake.
Seems like just yesterday that the museum opening in the heart of downtown next to Curtis Hixon Waterfront Park.
Today, the museum has become a stopping point for important shows as they travel the country and the world. (It'll host a Norman Rockwell retrospective all through March.)
The museum's own collection, which mixes ancient Greek art with modern pieces, remains on display as well.
The party starts at 11 a.m. Sunday. Admission to the museum will be free for the day.
There's be kids' art activities and tours of the collection.
You can also listen to live music and get free samples from the in-house Sono Cafe.
There's even going to be a parade at 2:30.
And what would a birthday party be without cake? (It's at 3. Come ready to sing.)
It's a great chance to visit one of Tampa Bay's cultural gems.
Can't make it during the day? Swing by after sunset, when the skin of the building becomes a canvas itself, away in colored lights.