Hello Tampa Bay! Lisa back with a night of celebration, brought to you by one of our Tampa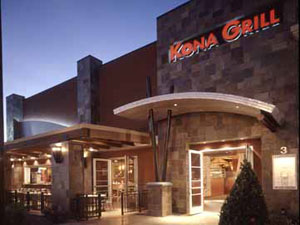 Bay Dining partners: Kona Grill is celebrating it's one year anniversary and wants you to be part of the action! They are calling the event an outdoor extravaganza! One of the best parts about it, it is open to the public. This fun filled event will take place THIS THURSDAY November 11th from 6pm-10pm.
Kona Grill is located in the MetWest Plaza on Boy Scout Drive across from International Mall. Tickets are $30 in advance and $35 at the door.
The evening will include live music provided by The Red X Band, award-winning menu items, body sushi and open bar. Along with their renowned sushi presentations, grilled fare and pizza, the open-bar will include signature cocktails such as Strawberry Basil Lemonade, the Blushing Geisha and the Silky Cool Cucumber Mojito, that has less than 115 calories!
Kona Grill is best known for it's Japanese American style menu. From their fresh sushi bar, to their freshly grilled entrees Kona Grill is a one of a kind experience. The knowledgeable staff and unique atmosphere make it a staple of the Tampa Bay Dining scene.
If you are looking for Where to Eat Thursday, come celebrate Kona grills birthday!
That's all for now, but stay tuned for more Tampa Bay Events!