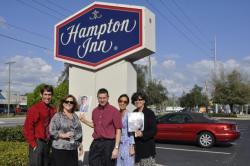 Hi everyone.  Travis back to tell you about some accommodations in the area that you may or may not normally hear about.  It's not an extremely large property.  There's nothing in the desciption that's...let's say...out of this world.  But let me tell you, if you're looking for an amazing experience where you can be comfortable while you're away from home, the Hampton Inn Tampa-Veterans Expressway is a great place. 
Team Liger took a tour of this place last week, and I for one was absolutely amazed at this place.  The rooms were fantastic.  They had some meeting space for a small group if that's what you're interested in.  Pool...check.  Gym...check.  Breakfast...check. 
This has got all of the amazing amenities that you've come to expect out of the Hampton name, plus it's just a few minutes from so much in the Tampa Bay area...shopping, dining, sports (Yankees Spring Training and the Bucs), downtown Tampa, and let's not forget about the airport. 
These guys have done it right, so if you're looking for a place to stay during your next trip, make sure you put this one on the short list.  Check out their website to get the details on this place: http://hamptoninn.hilton.com/en/hp/hotels/index.jhtml;jsessionid=4SBFMDNRSMC0OCSGBI1MVCQ?ctyhocn=TPAVEHX. 
We'll see you back here for more info about accommodations and other great things to do in Tampa Bay.