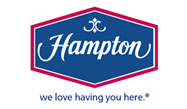 Hey everyone!  Travis here with a Tampa tourism update...and one that I am going to experience first-hand.  I was born and raised in the Tampa Bay area, and because I live in the area, I don't get to go out and experience our hotels.  Well, that's gonna change right now! 
I will be staying at the Hampton Inn & Suites Ybor City this weekend, and I'll be experiencing the best that Ybor City has to offer.  In case I didn't mention it, Ybor City is one of my favorite parts of the Tampa Bay area.  From the dining and nightlife options to, yes you guessed it, the hotel options, there's so much to see and do. 
In case you've never stayed or dropped by the Hampton Inn & Suites Ybor, this place is in the perfect location!  It's right on 7th Avenue (yes, the strip) in Ybor.  And it's got everything you need...here's the short list -
Automated Teller (ATM)
Baggage Storage
Beverage Area, Complimentary
Breakfast Area, Complimentary
Coin Laundry
Elevators
Local Area Transportation
Luggage Hold
Safety Deposit Box
Fitness Room
Pool
And in case you're in town for business, how about adding -
Audio/Visual Equipment Rental
Business Center
Fax
Meeting Rooms
Photo Copying Service
And all of this is on top of the awesome rooms they have!  Obviously you'll be more than comfortable staying there.  But don't worry, I'll fill you in first thing Monday morning. 
If you've ever stayed there, feel free to chime in and let us know what you thought, but I'll be giving the full review next week.  In the meantime, if you're interested in more info about the hotel, visit www.tampayborcitysuites.hamptoninn.com/. 
And remember to keep checking back here for more great things to do in Tampa Bay and other Tampa Bay area events.