Happy Monday Tampa Bay, Alex here to tell all of the families around the area about a great way to celebrate Halloween.
A special holiday party is taking place on October 22nd at Sesame Str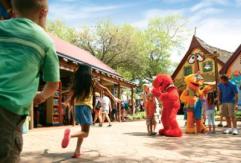 eet Safari of Fun at Busch Gardens. Your child can do the Monster Mash, meet the Count, parade in costume and enjoy a spooky lunch.
 
The lunch is from 12:30 to 1:30 p.m. and includes delicious food served buffet-style, with items sure to please both parents and kids. A full menu is available at SesameStreetSafariOfFun.com, under the Dine with Elmo link.
 
This special Halloween Monster Mash Dine is $22 for adults and $15 for children. One 6x8 photo with The Count is included per family. Pass members receive a 10 percent discount. Admission to the park is required, but not included.
 
**Note: Children are permitted to wear costumes during Dine with Elmo, but costumes may need to be removed in order to safely go on rides.**
 
To make your family's reservation, visit SesameStreetSafariofFun.com and click on Dine with Elmo to book the Oct. 22 dine, or call 1-888-800-5447.
This is going to be tons of fun for the whole family! 
 
Busch Gardens has fun for the whole family to enjoy all day. With thrilling rides, award-winning shows and exotic up-close animal encounters, and the all-new triple-launch coaster, Cheetah Hunt. Busch Gardens provides unrivaled excitement for guests of every age. For more information on Busch Gardens go to, http://buschgardens.com/bgt/.  
 
 
 Have a wonderful evening and check back with us throughout the week for updates on Things To Do in Tampa Bay!