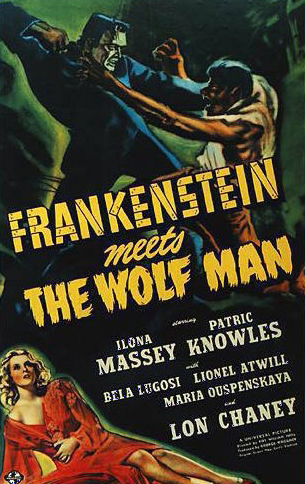 Hey everyone!  Travis here with some great things to do in Tampa Bay for Halloween!  And these are taking placed at the famed Tampa Theatre.  From scarry movies to tours, they have something for the entire family.  So, here we go:

Sunday, Oct. 25 - GHOSTS & GARGOYLES: Costumes, crafts, cartoons and a scavenger hunt are all part of this family fun event.  It's $5 for adults and $2 for kids 12 and under.  The event, from 2 to 5 p.m., will feature Halloween crafts, a scavenger hunt and "ghost walk" through the Theatre, free popcorn and special onscreen entertainment, all for the admission price of $5 per adult and $2 per child under 12. Costumes are encouraged and concessions will be available for purchase.
 

Friday, Oct. 30 - CREATURE FEATURE DOUBLE FEATURE:  FRANKENSTEIN MEETS THE WOLFMAN & THE MUMMY
It all starts at 7:30pm.  Two Frights for One Price!  $9 adult; $7 kids 2 -12, senior, military, Tampa Theatre members.
PLUS!  Audience Halloween Costume Parade on Stage Before the First Movie.  In case you haven't seen these classics, here's a review for you:
 

Frankenstein Meets The Wolfman (1943)
Over 10 years after first turning down the role, Bela Lugosi donned the neck bolts and platform boots to play Frankenstein's monster for the first and only time in Frankenstein Meets the Wolfman. Lon Chaney, Jr. gets in on the campy Halloween fun by reprising his most famous role of Larry Talbot, better known as The Wolf Man. Sure, the Wolf Man died at the end of that film, but who's gonna split hairs here? Unfortunately, Larry's furry little problem wasn't solved by death or resurrection, so, naturally, the only option available is to seek out Dr. Frankenstein. In his quest, Larry stumbles upon Frankenstein's Monster instead and is convinced by his scientist buddy Dr. Mannering (dating Frankenstein's daughter, natch) that it is, in fact, the Monster who can cure Larry. As you might expect, a climactic battle between ol' Wolfie and the Legendary Lugosi ensues. You'll hoot and howl at this great Creature Feature Halloween classic.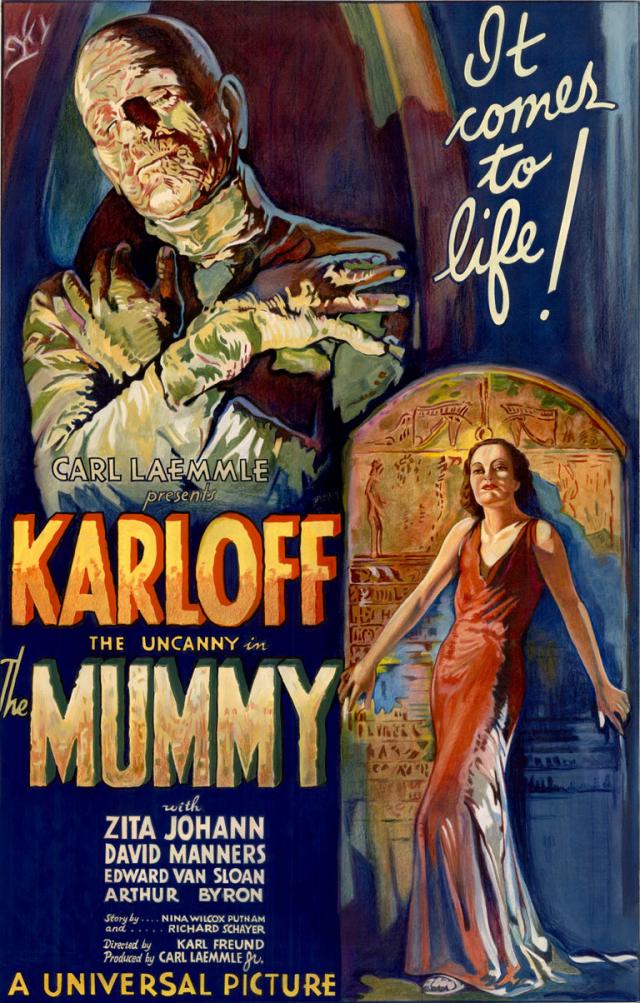 The Mummy (1932)
You have to hand it to the walking dead. What they lack in speed and agility, they more than make up for in sheer single-minded determination. The Mummy's Im-Ho-Tep is a case in point. He's an ancient Egyptian priest, cursed for his terrible crimes against the gods. A team of British archaeologists who can't leave well enough alone dig up his sarcophagus, along with a box inscribed with a warning that opening it will unleash death and destruction. You'll never guess what they do. Once freed, Im-Ho-Tep takes on the appropriately evil alias Ardath Bey and gets to the task of resurrecting his ancient lover--which will, of course, require a living human surrogate. While the premise may sound formulaic, The Mummy in fact turns out to be bracingly weird, relying on atmospheric creepiness to set the eerie tone. Boris Karloff gives a terrific performance as Im-Ho-Tep in this dreamlike masterpiece. Stock up on ace bandages and prepare for a good spooky evening.
 
Saturday, Oct. 31 - HISTORY & HAUNTS TOUR: Just in time for Halloween, escape into the past in Tampa Theatre first-ever History and Haunts Tour, blending the amazing history of this 83 year old classic movie palace with tales of the paranormal experienced by staff and guests over the years.  The tour includes a creepy concert on the Mighty Wurlitzer Theatre Organ, as well as a special audio-visual presentation containing historic photos of the theatre as well as spectral evidence (photos, electronic voice phenomenon, etc.) gathered at this national landmark. Tickets are limited, so advanced purchase is strongly recommended. Note: Since this tour includes the frank discussion of ghosts and paranormal phenomenon, no children under 5 will be admitted.

It happens from 11am to 1pm and tickets are $10.00 adults, $8.00 senior, student, military, children 5-12, $5.00 Tampa Theatre members.  Just contact Janice Strand at janice@tampatheatre.org if you want to attend! 

So, there you have it, plenty of activity for anyone and everyone for this Halloween!  So, get out there and enjoy.  But, there are plenty of fun things to do at the Tampa Theatre throughout the month, and the year, so log on to www.tampatheatre.org to get the full scoop!

and as always, keep checking back here for more great things to do in Tampa Bay, and other Tampa Bay area events.