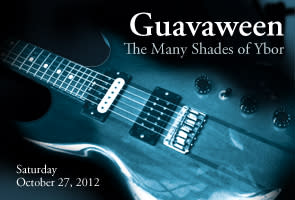 Hello folks! Jerm here with an update for you about one of The Tampa Bay area's favorite annual events going down in Ybor City! This year's 2012 Guavaween festivities will have a bit of a twist though. What kind of a twist you ask? Well let me tell you!
Guavaween 2012 is alive and well, and features both the annual costume contest and new indoor music festival.
The theme for the 27th edition of Tampa's nationally-known Halloween celebration is "The Many Shades Of Ybor."  The music festival will include over 20 bands representing national, regional and local talent in seven venues throughout Ybor. 
The costume contest draws competitors from all over the country with a $1,000 1st prize, $500 2nd prize and $250 for 3rd and will be hosted again this year by none other than Mama Guava!*

While there is no fence or wetzone this year, visitors are encouraged to come in costume to enjoy the top notch entertainment & Ybor City's wide array of cafes, restaurants, cigar bars and pubs!.

Participation in the music festival requires a universal wristband available in advance for only $20;  $30 the day of the event.
Here are some more awesome details about this event:
Music venues include:
The Ritz Ybor
Czar
The Orpheum
Crowbar
Market on 7th
New World Brewery
Centro Ybor (site of the Custom Contest Sponsored by Bud Lite Platinum)*
Musical Talents include:
The Hold Steady - Rock & Roll
Rubblebucket - Psychedelic Indie Rock, Upbeat Dance
Jessica Lea Mayfield - Indie, Ambient, Folk Rock
Adrian Younge - Vintage Soul, Psychedelic Rock
Tortured Soul - Live Soul, House, Electronic
Sounduo - Post-Dub, Glitch, Electronic
King Tuff - Garage, Power Pop
The Intelligence - Lo-fi Post-Punk Rock
Old Man Markley - Bluegrass, Punk
Auto!Automatic!! - Instrumental Rock
Have Gun, Will Travel - Americana, Folk, Indie, Rock
There is so much going on at this year's festival you'd be crazy to miss it! For more information on this event, be sure to check out the Ybor City Chamber of Commerce website! Or just click here to get your tickets!