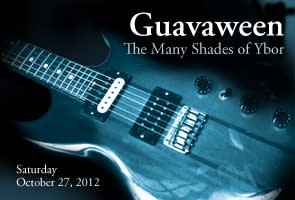 Hello there music and festival fans, Jerm here with the update and blog post you have all been waiting for I am sure!
As promised last week, we are giving away tickets to this weekends Guavaween Music Festival, happening right here in Ybor City this Saturday from 6pm - 2am!
This year's event won't be like other past Guavaween's, as this years festival will feature music acts from all over along with food and fun along with a contest party where the winner can win up to $1,000!
But enough of me yapping on about how great this years event will be, lets get down to the trivia knitty gritty! By now, you should have a good idea of how we go about doing these contest, but if not here is a quick refresher.
We will post three questions below and all you have to do is answer them on either Twitter or Facebook. If you get the answers correct, then we throw your name into a quick drawing and pull out one winner on each, Facebook and Twitter! So to re-cap that is one winner on Facebook (4 tickets) and one winner on Twitter (4 tickets).
So without further ado, here are the questions:
This Guavaween Music Festival Venue was originally built in 1917, but underwent a $2 million renovation to become Tampa's premier special events and concert venue.
 
This Garage/Power Pop artist will be performing at 9:45 p.m. at New World Brewery during Guavaween Music Festival.
 
True or False: This year is the 25th anniversary of Guavaween in Ybor City
Okay folks there you have it! We will announce the winners later this evening!
Now remember it does increase your chances of winning by sharing the post with your friends on Facebook, ot by simply re-tweeting the original post on Twitter!