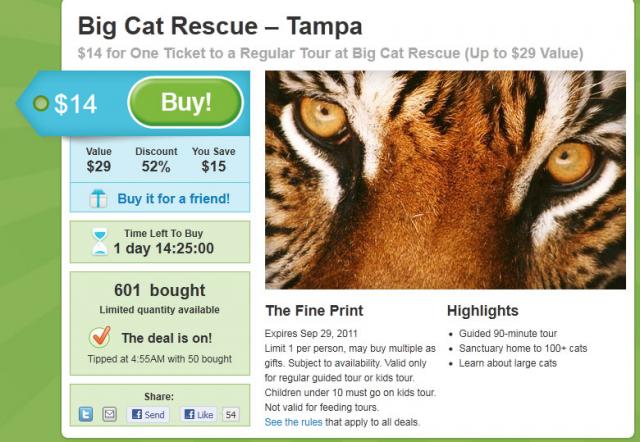 Hello folks! Jerm here with another update for you on an awesome deal brought to you by our friends over at
Groupon
!
One of my favorite places to go is featured on
Groupon today
and that is place is
Big Cat Rescue
.
Today's Groupon at Big Cat Rescue is $14 for One Ticket to a Regular Tour at Big Cat Rescue (Up to $29 Value)! Now that is a steal folks for such an awesome place! I remember the first time I went, I learned so much about these beautiful animals and the journey each has taken in their lifetime.
Tours take place Mondays–Wednesdays and Fridays at 3 p.m. and Saturdays and Sundays at 10 a.m. and 1 p.m.
Carole Baskin and her group of passionate volunteers and staff, oversee this educational sanctuary as it is permanent home to more than 100 exotic cats rescued from unlivable circumstances.
I loved seeing the tigers, and let me tell you folks, you've never seen a tiger before until you've seen one up close and personal. They are about as beautiful an animal as you will come across. By the time you leave though you will have a special place in your heart for Cameron and Zabu, the Lion and Tiger pals. Such an amazing story for all of these cats, its just something that you have to see and experience on your own.
That's all for now folks, but hurry up and snap up this great deal, and be sure to check back with me for updates on Tampa Florida attractions and things to do in Tampa Bay!