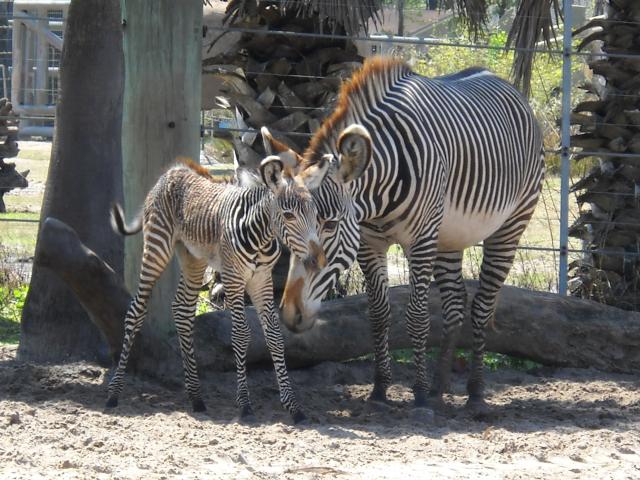 Hey everyone...Travis back with some Tampa tourism update for you all, and some very exciting news from Tampa's Lowry Park Zoo.  Here's the info they sent over that we just had to share: 
Bearing soft brown and white stripes instead of the traditional Irish green, an endangered Grevy's zebra foal was born on exhibit at approximately 1:45 p.m. on St. Patrick's Day at Tampa's Lowry Park Zoo.    
Zoo animal care staff observed the entire labor and delivery, along with a small crowd of curious guests who lingered in an area near the exhibit for more than an hour to be on-hand for the rare opportunity to see a newborn zebra. 
The Grevy's zebra birth is the first for the Zoo and for new mother, "Pixie," who responded extremely well to the newborn foal, thought to be a female.  After several tries, the foal stood on its long, wobbly legs, and nursed within one hour of birth. 
Grevy's zebra, sometimes known as the imperial zebra, is the largest species of wild equine in the world.  The black stripes are narrow and close-set, being broader on the neck, and they extend to the hooves. The ears are very large, rounded and tapered. The head is large, long and narrow, particularly mule-like in appearance.
Tampa's Lowry Park Zoo has celebrated many "firsts" within the animal collection over the last year, including the first Indian rhino birth for the Zoo, the first shoebill stork hatching in North America, and now the first Grevy's zebra foal born at the Zoo.
And there you have it...a heart-warming story for the day.  I hope you make it a great day.  See you back here for more updates, including great things to do in Tampa Bay and cool Tampa Bay area events.