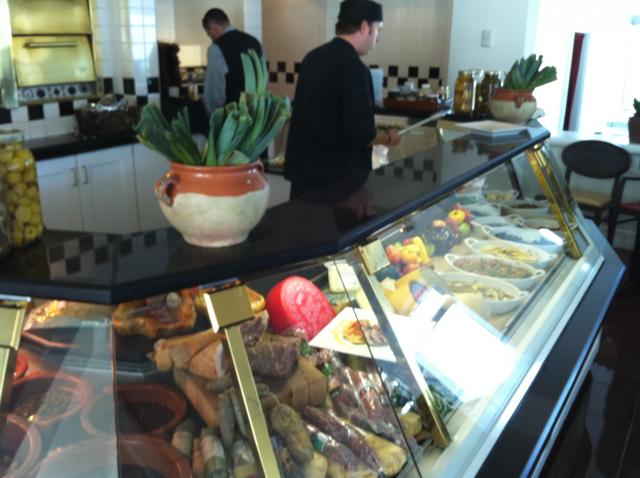 Buon Giorno everyone! Jerm here and as you can tell, I have been brushing up a little on my Italian lately. With all of these great Italian themed Tampa Bay Dining Establishments I have been to lately, its almost a requirement. While I am at, I need to learn how to say "No I am stuffed and I can't eat anymore", or possibly even "Excuse me waiter, but do you have a wheelbarrow, so that you can roll me out of here." With as much as I tend to eat when I go out  for dinner, those two would definitely come in handy.
Last night, I had the pleasure of dining at one of Tampa Bay's finest dining establishments
Armani's
, located on the top floor of the
Grand Hyatt Tampa Bay Hotel
over in the Rocky Point area of town. I must admit, I new that the view from the restaurant was gonna be pretty sweet when you consider it was overlooking the water, but I must admit to being shocked and seeing just how beautiful the views are from up there.
If we were in an alternate universe and I had a potential wife, this would be the place I would propose to her, but since I am living the single life for the foreseeable future, don't be expecting invitations anytime soon. All joking aside, this place is great for any occasion whether it be date night, 10 year anniversary, or dinner for a large group of people, as its just an absolutely beautiful view, especially if you can catch a sunset in the evening.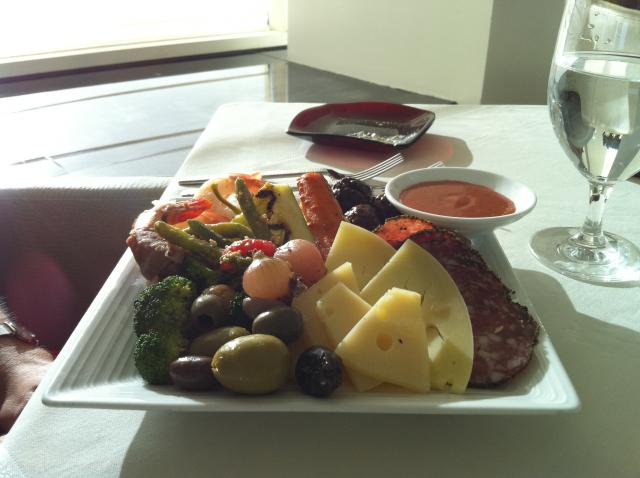 To kick things off, we were given a brief tour of the layout of the restaurant and got to see up close the spectacular views, in addition to the antipasti bar which by the way has a ridiculous selection of meats, cheeses, and other goodies (see picture to the right).
I was told by friends prior to the evening that the Antipasti bar is a great way to start the meal, so I  figured I would give the antipasti bar a try along with a nice Caesar salad (yes I know I am a fatty).
There is plenty to choose from on the bar, as there are well over 30 selections, but I went with a slue of cheeses and meat, which of all that I had on that plate, the balsamic glazed meatballs and shrimp cocktail were my favorite!
After starting off with all of that, plus the hot bread that was brought out, one would think I would be deemed comatose from all that food, but oh no! Jerm's belly was only getting started my friends!
So many items to choose from on the menu, but I decided to go with the day's special which was Veal Tenderloin with Butternut Squash Ravioli & Heirloom Tomatoes. I'll give you five seconds to stop drooling before I continue..... Okay you should be done salivating by nor, or at least have gotten a napkin/brawny paper towel.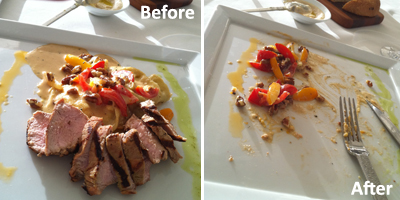 This was the first time I have ever had veal before, and now I see what the fuss was all about, as it was delicious folks.
So tender and juicy, and the butternut squash ravioli was the perfect compliment, and as you can tell by the photos, this fine Italian dish didn't stand a chance against "Hungry Jerm."
Now, after this delicious meal, I must admit that I was slipping into that aforementioned food coma, but I had to summon up enough energy and belly space to have some dessert.
As it was with the rest of the items on the menu, at Armani's you have plenty to choose from on the menu, but I was in a cheesecake mood, so that was what I went for in the Lemoncello Cheesecake, but I had them make it special for ol Jerm and add some maserated strawberries to the mix.
Seeing as how that item wasn't actually on the menu, I for one would vote that they add it to the menu and name it after me. I like the name "JermelloBerry Cheesecake Delight." What do you guys think about that? Okay maybe not, but it was great, and the picture to the left doesn't quite do it justice. I wasn't sure if I should just continue taking pictures of it, or just devour it whole!
All in all, it was a great night of food and fullness, and I actually did need that wheelbarrow by the time I left to head to my car.
One thing that I have to finish this post with is the fact that the service at Armani's is beyond first class. Every need was attended to, and my glass was always full (which you guys know is a must for me), and I even got to meet the Executive Chef for the The Grand Hyatt Hotel, Mr. Sven Ullrich, as he was walking around the entire restaurant speaking with patrons and further enhancing the dining experience!
Oh well folks, that is all I got for now, but be sure to plan your next dinner outing or event with the crew at Armani's and be sure to tell'em Jerm sent you! For reservations, check them out on
OpenTable
, in addition to
clicking here to see the menu
! Stay tuned in for more  updates on Tampa Bay entertainment and foodie related things to do in Tampa Bay!