Hey there fans! Hope everyone's Friday is off to a great start and that carries on into your weekend! Wanted to drop by and tell you about an awesome experience I recently had at one my new favorite restaurants!
If you haven't had a chance to sample the cuisine at GrillSmith Restaurants, then I have to tell you that you have no idea what you are missing out on! And since there are more than 5 locations here in the greater Tampa Bay area, you really don't have much of an excuse to have never gone!
Me and some friends headed over to try out some of the new menu sensations at the South Tampa/South Dale Mabry location after work one evening. I must admit that this was my first time at GrillSmith as well so I was looking forward to it, and was not at all disappointed!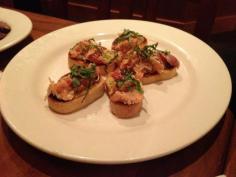 Like we typically do when there is a group of us that go out to eat, we just order different items off of the menu and have what is essentially a feast in front of us as we share food and pick off of each others plates. Some of the items we gobbled up include:
Chicken Milanese (Awesome!)
Spicy Thai Chicken (Awesomer!)
Spicy Thai Shrimp (Awesomer!)
Voodoo Cheese Fries (Awesomest!)
And much more!
Be sure to
check out the photos
so you can get an idea of exactly how much we actually pigged out! By the end of the night, it was sure time to loosen the old belt buckle. I would have to say that as far as my favorite dish, it was a three way tie between the Spicy Thai Chicken, Voodoo Cheese Fries, and Spicy Chicken Nachos!
If you don't want to go with a big group like me and my peeps did, feel free to take a friend and just order off of the new
$10 Under $10 Menu
, either way, you'll be leaving with a big smile on your face!
Like I said earlier, with six locations in the greater Tampa Bay area, there is always one nearby you, so be sure to go and check it out! As always, be sure to tell'em Jerm sent you!
That's all for now, but be sure to stay tuned in for more updates on Tampa Bay dining delights from your Tampa Bay team!