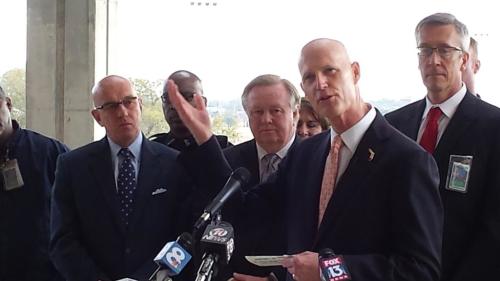 Florida owes the country and the world 97.3 million Thank You's.
Gov. Rick Scott announced that Florida had hosted 97.3 million tourism in 2014, a record number.
He made his announcement this morning with Tampa International Airport's $1 billion expansion as his backdrop.
Every one of those 97.3 million visitors meant jobs for people in Florida. They also gave rise to projects like the TIA expansion, which will create even more jobs over the next several years, the governor said.
For Tampa Bay, 2014 was a record year, with new hotels like Aloft, Le Meridien and the Epicurean, renovations to existing hotels, new restaurants like Ulele, Fodder and Shine, and Ava, new attractions like Busch Gardens' Falcon's Fury ride and major events like the International Indian Film Academy's four-day awards festival.
"Florida is hot and Hillsborough is on fire," Visit Tampa Bay CEO Santiago Corrada told the crowd.
Tampa Bay continues to grow as a tourism destination. After adding several international flights via Copa Airlines and Edeweiss Air in the past few years, our international reach will grow again in September when Lufthansa starts flying direct between Tampa and Frankfurt, Germany. We're also going to be a port of call for German cruise line AIDA for the next two years.