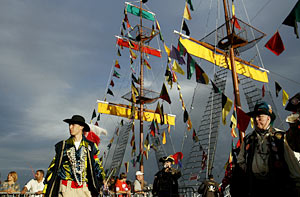 Hey Tampa, Melissa here. I am writing today to briefly tell you guys about Tampa's annual Gasparilla Outbound Voyage; which concludes this year's Gasparilla festivities. It will take place this Saturday, March 5th at 3:30pm.
The voyage departs from Jackson's Harbour Island right in downtown Tampa. You get to join the Pirates of Ye Mystic Krewe of Gasparilla as they celebrate their invasion of Tampa Bay! The afternoon will be filled with lots of celebration and live entertainment before the pirates set sail to continue their adventures.
This should be a lot of fun. Even though we are saying goodbye to our pirate friends, this annual celebration means we are saying hello to springtime in Tampa, and as we all know it is beautiful! Come out and enjoy the great weather and fun, and until next year…ahoy!

And...keep checking back here for more about Tampa Bay and amazing Tampa Bay Area events!