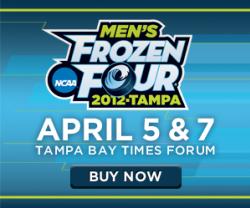 Hello there college hockey fans! Jerm here with an update on next week's NCAA Frozen Four for those of you still looking to purchase tickets!
For the first time in the history of the event, the NCAA is bringing the crown jewel of college hockey to the South, as the Tampa Bay Sports Commission, Tampa Bay Times Forum and University of Alabama in Huntsville host the 2012 NCAA Men's Frozen Four on April 5 and 7 at the newly-renovated Tampa Bay Times Forum.
Our friends over at the Tampa Bay Sports Commission are pleased to offer the purchasing of individual VIP tickets in the Forum's North Party Suite for both the Semifinals and Championship/three games for $375. This package also includes unlimited access to the Tampa Bay Sports Commission's pregame VIP tailgate area.
The newly renovated, all-inclusive executive club is located on the north end of the arena (attack end for hockey). The Party Suite provides stadium style seating, private restrooms, unlimited buffet access, and all-you-can-drink beverages. Individual lower level tickets, which do not include a hospitality option, are available while limited supplies last for $195.
Interested fans should download this form and fax back to 813-218-3375 or email to Bguthrie@VisitTampaBay.com! Act fast, as these tickets will be gone before you know it!