There's no shortage of great photo-op spots in Tampa Bay. For one thing, you can see downtown from 360 degrees. For another, we have a combination of unique architecture and waterfront locations -- a match made in Selfie Land. So grab your smartphone and head for these spots to let your friends know you were here.
Unlock Tampa Bay Visitors Center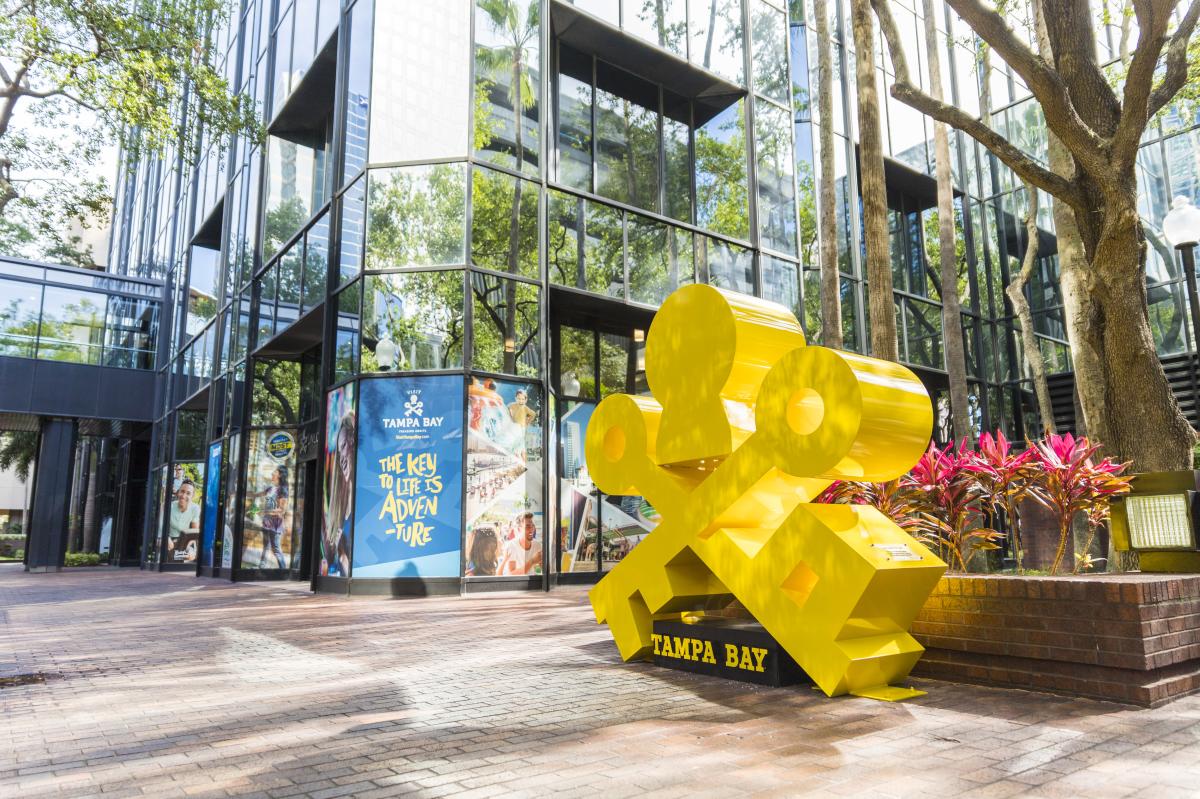 Start your selfie safari off right in the heart of downtown where a bright yellow monument captures the pirate spirit of this destination. The award-winning keys-and-keyhole icon will let everyone know you've found your way to Tampa Bay!
American Social
Downtown's sparkling waterfront creates lots of opportunities for drinks and pics by the water. American Social and nearby Waterside Grill, both part of Harbour Island, put the dynamic skyline just over your shoulder -- the ultimate "wish you were here" image.
For other skyline selfies, you can try: the South Regional Parking Garage near Amalie Arena, Plant Park at the University of Tampa, Armature Works in Tampa Heights.
Tampa mural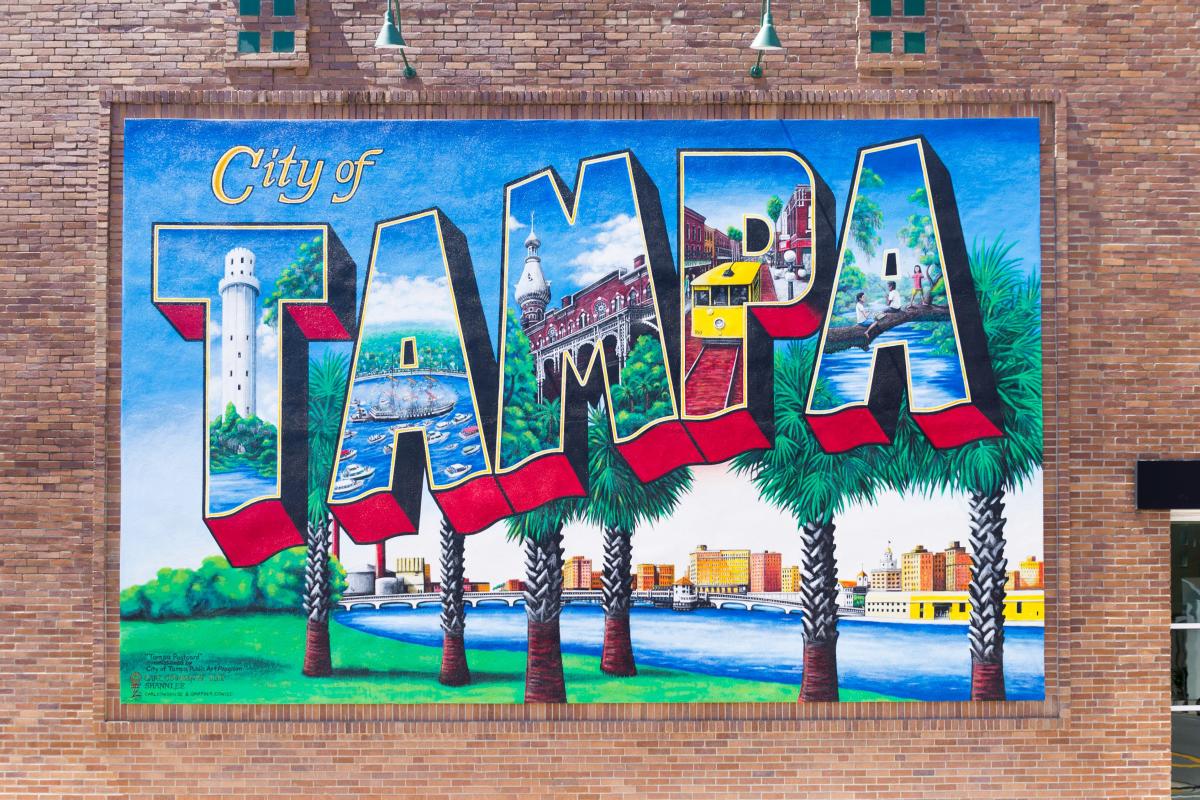 Spell it out for the folks at home with a stop by this classic-postcard mural at Franklin and Royal streets just north of downtown. If you work up a thirst on your photo quest, no worries -- nearby Fly Bar has just the thing to wet your whistle.
Tampa Museum of Art
It's hard to find a spot with a better view of downtown that the plaza outside the Tampa Museum of Art. The museum cantilevers 40 feet out, creating a shady spot for lunch at Sono Cafe with a sweeping view of modern skyscrapers, historic Plant Hall's silver minarets, and the sparkling Hillsborough River between them.
Tampa Theatre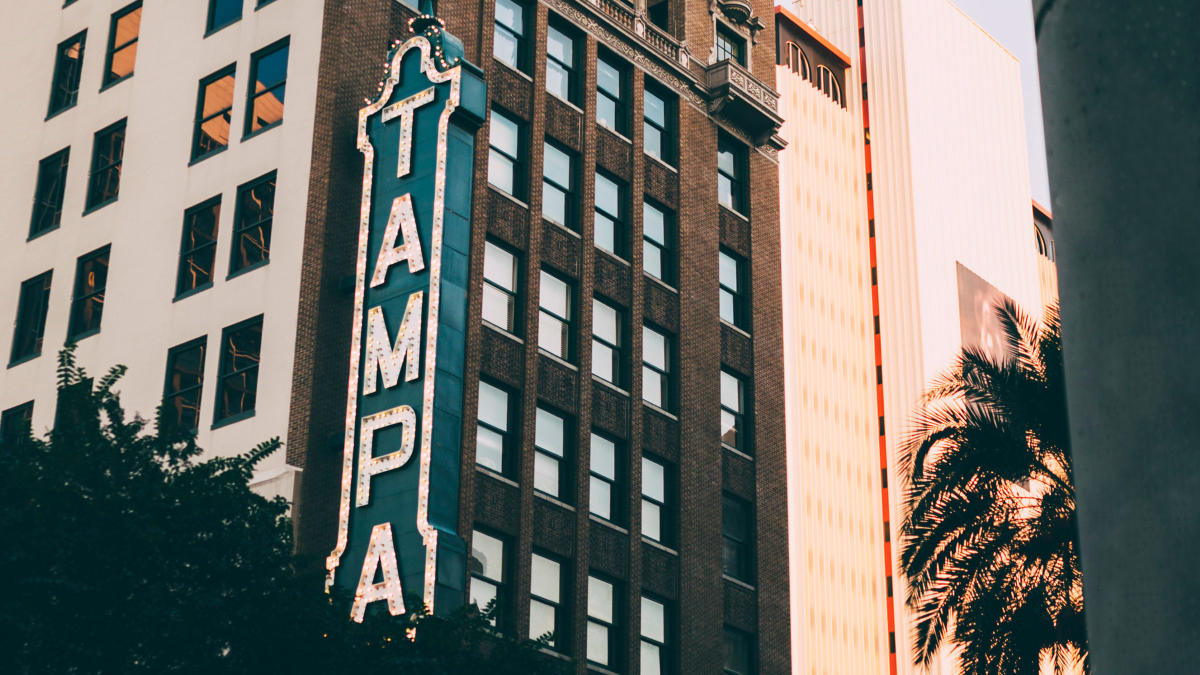 The Grande Dame of downtown architecture leaves no doubt where you are thanks to its enormous "blade" sign adorning the front. While you're here, grab tickets for a classic movie or come back for a balcony-to-backstage tour to get the full picture of this ornate remnant of the silent film era.
Gasparilla Pirate Ship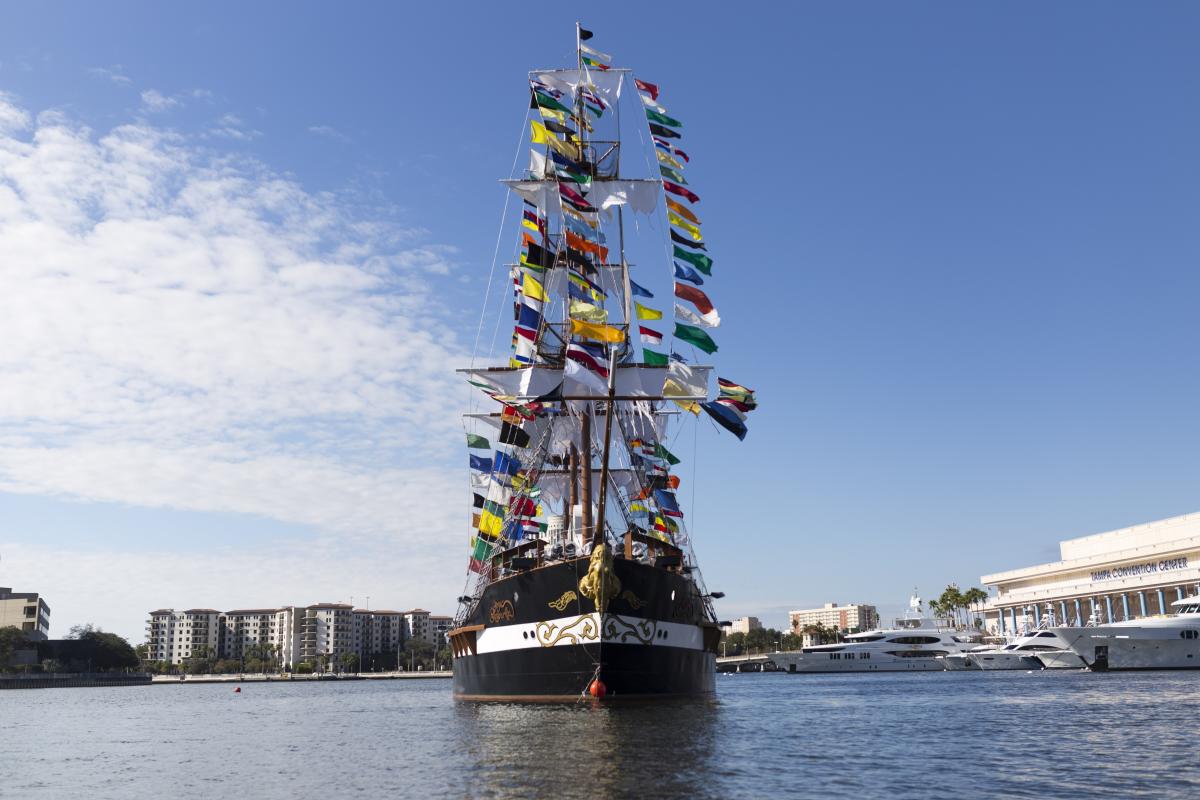 Yo ho, me hearties, nothing says Tampa Bay like the country's only fully functional pirate ship. You'll find the Jose Gasparilla docked most days at the northern end of beautiful Bayshore Boulevard, just waiting for you to strike a pose. But stay dock-side, land lubber. The ship is private property.
Busch Gardens® Tampa Bay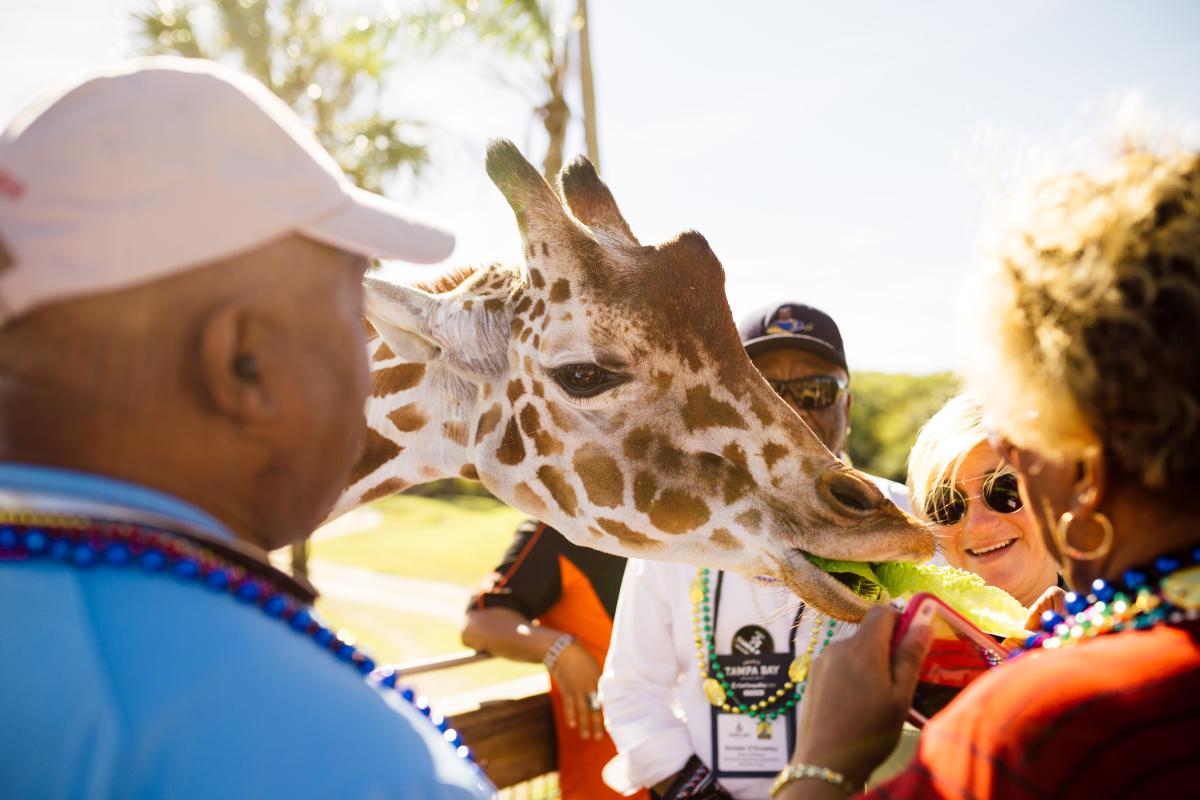 How buddy, why the long face? Get ready to be photo-bombed by the locals when you take your selfie safari on an actual safari in the Seregenti Plain at Busch Gardens where you can feed giraffes lettuce by hand (just pay attention to which hand has the cameraphone in it). You can also get eye-to-eye and face-to-face with giraffes at ZooTampa at Lowry Park.
Ybor City Chickens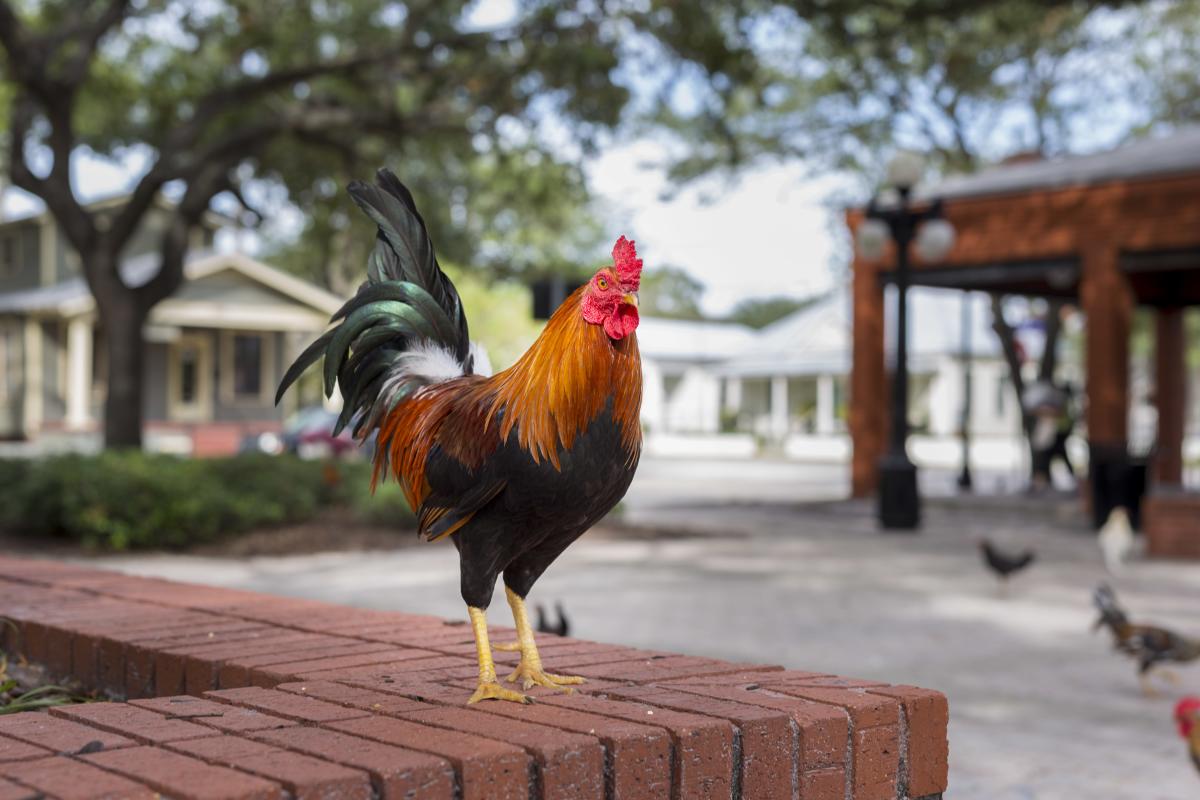 Get up close and personal with Ybor City's most historic residents. You'll usually find them strutting their stuff around Centennial Park at 8th Avenue and 18th Street, but they pretty much have free rein of Tampa Bay's Latin Quarter. As with the Jose Gasparilla, it's look with your eyes not with your hands. These birds are protected by city ordinance.
Tampa Riverwalk
It's hard to find a bad spot for a selfie along downtown's 2.4-mile pedestrian path. But for our money, the classic selfie is at Curtis Hixon Waterfront Park across from Plant Hall (aka the former Tampa Bay Hotel). The building's silver minarets are an instantly recognizable 120-year-old Tampa Bay landmark. As a bonus, you can get Henry B. Plant, the 19th Century railroad baron who built the hotel, to join you -- his bronze bust stands nearby on the Riverwalk.
Bradley's on 7th
This Ybor City LGBT landmark is famous for its inclusiveness, its go-go dancers and its blue tile wall, which has inspired thousands of #bluetiles selfies.