Hey Tampa Bay, It's Jodi and I have some great information on the
Glazer Children's Museum
opening September 25. If you have been anticipating its opening as much as I have, you will be happy to hear that they are offering a membership special!
If you buy one of their 3 membership plans by August 15, you will receive 3 months of membership free! Your membership will allow you and up to 4 other people entry to the museum from Opening Day September 25, 2010 to December 31, 2011.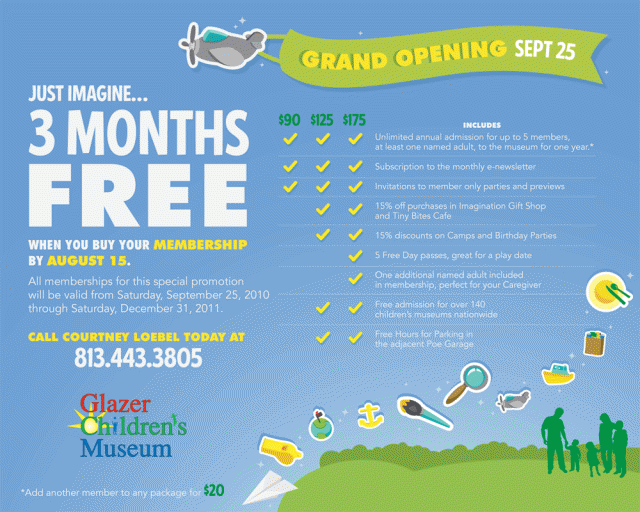 The Glazer Children's Museum has activities and exhibits for all the members of your family to enjoy together, from babies to grandparents. Children will get the chance to steer boats through a miniature Tampa Bay, fly a plane over Ashley Street, and run their own TV show.
Families can play in a cruise ship or watch as their children climb from leaf to leaf illustrating the journey of water in a massive tree climbing structure. Sure to be the site of many memories, The Glazer Children's Museum will have families learning, moving, and doing together.
For more chances to enjoy the Museum, you may want to think about a membership. The three membership options run from $90 to $175 and offer different perks and benefits. The $90 membership gets you unlimited admission for your group along with a member's e-newsletter and invitations to special members events.
The $125 option builds your experience with food and merchandise discounts, special pricing on camps and birthday parties, parking in the Poe Garage, and admission to a network of children's museums nationwide. For $175, you enjoy all these benefits plus 5 free day passes for playdates and one extra named adult included in your membership.
For your chance to get 3 months of membership free make sure you buy your membership by August 15, 2010. For information on memberships, go to
www.glazermuseum.org/membership
Remember, the Glazer Children's Museum opens September 25th! That's all for now, but be sure to check back for more information on great Tampa Bay area events and things to do in Tampa Bay!