Hi everyone, Alex here to share some exciting information with you. One of Tampa's museums made the Woman's Day: 10 Best Children's Museums to Visit This Summer List.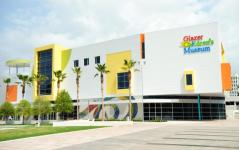 The Glazer Children's Museum made the top 10 list along with other great children's museums around the United States.  These museums are tons of fun for children and provide some of the best educational experiences in the country.

The Glazer Children's Museum is just over a year old and home to more than 170 hands-on, minds-on "interactivities," with plenty of quiet nooks to regroup. "Water's Journey," a 35-foot-tall climbing structure, is one of 12 themed galleries that help kids explore everything from the role water plays in the world to the history of aviation. A popular place to be is "KidsPort," an expansive water table where kids manipulate shipping channels and work with tides to move boats.

Entertain your children this summer with some educational fun at Tampa's very own, Glazer Children's Museum. 
Click here to see the Woman's Day: 10 Best Children's Museums for yourself.

Check back with us often for more information on Tampa Bay Museums and Things To Do In Tampa Bay this summer!