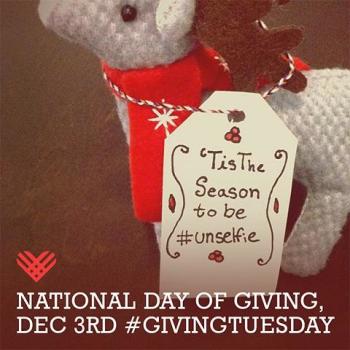 Black Friday door busters… Cyber Monday... Not only do we fill our bellies with delicious Thanksgiving food, but then we empty our wallets for mega sales.
Others in the Tampa Bay area and even the nation are turning to a new holiday tradition, "Giving Tuesday". 
In the spirit of holiday giving, Giving Tuesday began back in 2012 as a national movement to encourage people to participate in charitable acts.  Genius really… A national day of philanthropy after two major holiday shopping promotions? #WINNING
So, today is the day Tampa peep. Donate, volunteer, do something to give back to our local Tampa Bay community. 
I've put together a quick list of some local Tampa Bay nonprofits, organizations that are participating in Giving Thursday.  Take a look and remember, no act of charity is considered too small!
The Florida Aquarium:  The Aquarium relies on the generosity of individuals and corporations to support their amazing programs.  Make a tax-deductible gift to the Florida aquarium today by visiting: http://flaquarium.org/donate.aspx
Tampa's Lowry Park Zoo: Visit the Zoo, make a donation, purchase an Annual Zoo Pass or plan to attend a special event.  Support a Zoo dedicated to a better future for all living things.  http://www.lowryparkzoo.com/ticket_donations.php
Big Cat Rescue: Love cats… big cats? Mark all of your social posts of big cat photos with the hashtags #GivingTuesday, #UNselfie, #BigCatRescue to share your love of saving big cats.  Making a year-end gift to the cats in time for Christmas is a great way to take a bite out of your taxes while sharing the love with 100+ lions, tigers, leopards, bobcats, servals, caracals and more at Big Cat Rescue. http://bigcatrescue.org/donate/
First Tee of Tampa Bay: This local non-profit organization impacts the lives of young people in the Greater Tampa area by providing educational programs that build character, instill life-enhancing values and promote healthy choices through the game of golf. Currently, 40,000 children in Hillsborough Country have been impacted by the First Tee of Tampa Bay programs, but there are so many more kids yet to be reached.  Give the gift of group golf lessons, support golf teams, summer golf camps or sponsor a kid. http://www.thefirstteetampabay.org
Dress for Success Tampa Bay: This nonprofit group that helps women re-enter the workforce in style is organizing a shoe drive which has turned in to a cool contest.  Who doesn't love winning? The top 10 shoe donors will be rewarded with a complimentary pair of ruby red Palace heels designed by Fergie Footwear. Be sure to join the social chatter using #GivingShoesDay  http://www.dressforsuccess.org/affiliate.aspx?sisid=69&pageid=22
Tampa YMCA: The Y is accepting donations today (and throughout the year).  Funds go directly to help children and families participate in its programs throughout the year, regardless of their financial situation. http://www.tampaymca.org/3cmby/index.php?option=com_content&view=article&id=305
The Tampa Riverwalk: This local gem is a favorite to both locals and visitors.  Become a member, purchase pavers or simple donate and become a Friend of the Riverwalk. www.thetampariverwalk.com
Metropolitan Ministries: Keep hope alive.  This non-profit faithfully reaches out to poor, hungry and homeless men, women and children in their time of need-providing life-changing answers. Within our care, people find food, clothing, shelter, and other vital services. But more importantly they find compassion and hope – hope for a brighter day and future. https://www.metromin.org/give
Make-A-Wish Tampa: Become a wish-giver! Wishes are more than just a nice thing.  A wish experience can be a game-changer for a child with a life-threatening medical condition. Whatever the odds, whatever the obstacles ... wishes find a way to make the world better. https://cnfl.wish.org/ways-to-help/giving/donate
To learn more about Giving Tuesday visit: http://community.givingtuesday.org/News
To check out what's going on locally here in Tampa Bay for Giving Tuesday visit: https://www.facebook.com/tampabaygivingtuesday?fref=ts