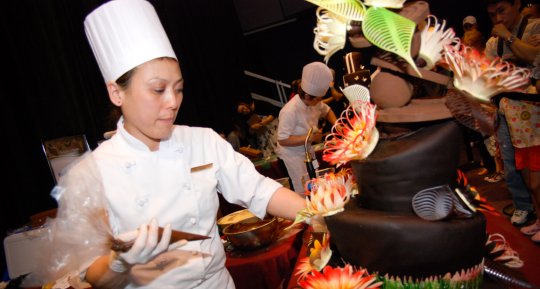 Hi everyone.  Travis back with some tasty information that you won't want to miss.  Tomorrow, we will be doing giveaways for tickets to MOSI's Festival of Chocolate.  We will give away two 4-packs on our Twitter page (www.Twitter.com/VisitTampaBay), and two 4-packs on our Facebook page (www.Facebook.com/VisitTampaBay). 
We will give away the tickets on the Twitter page around noon, and then on the Facebook page later in the day (perhaps around 2-3pm).  So make sure you are around when we do the giveaways, because something tells me they will be going fast. 
Here's some info about the Festival of Chocolate:  Taking place from January 14-16, MOSI will host Tampa's second annual Festival of Chocolate, which is Florida's largest all-chocolate themed event!  The event features the area's best chocolate and confection companies selling treats of everything chocolate from truffles, cakes and cupcakes to cookies, brownies and ice creams.
Here's the best part!!!!!  Entrance into The Festival of Chocolate is complementary with your MOSI admission, which means you get everything MOSI has to offer!!!  PLus, each adult advance purchase ticket will receive two dollars in chocolate coins to spend in The Festival of Chocolate. If you are a MOSI Member, you receive discounted entry pricing at only $10 a ticket and member children can attend for FREE.
Just visit mosi.org to get more details.  And don't forget, it all happens from Jan. 14-16 at MOSI.  Have fun and get stuffed!  And don't forget to check out Twitter and Facebook pages tomorrow for a chance to get free tickets!!! 
We'll see you back here for more Tampa Bay Entertainment options for the entire family, plus more great things to do in Tampa Bay.