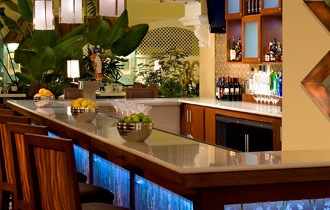 Hey everyone!  Travis here with another great giveaway!  The Sheraton Suites Tampa Airport Westshore has provided a complimentary lunch for two (2) at the St. James Bar & Grill (that's excluding tax and gratuity). 
In case you haven't been to the Sheraton Suites since they remodeled, it looks amazing, and the food at the St. james Bar & Grill is awesome.  So you won't want to miss this. 
We'll be doing this on the Visit Tampa Bay Facebook Fanpage at 11am on Monday, June 21 (this coming Monday).  So, make sure you become a fan and be there at 11am for the trivia question.  The first 15 correct responses HAVE A CHANCE to win the free lunch.  The fan page is at www.Facebook.com/VisitTampaBay. 
Don't forget and we'll see you there on Monday.  And as always, keep checking back here for more great things to do in Tampa Bay and other Tampa Bay area events.