Hello there folks! Jerm here to tell you about an awesome adventure I recently had at one of Tampa's coolest arts & culture institution!
Last week myself and some of my fellow staff had the chance to go and check out the famed Salvador Dali Museum and get our surreal on!
If you haven't been to the new Dali Museum, then let me tell you that you are missin out!  The Dalí is a work of distinguished architecture, with an Avant Garden, a raining Rolls Royce, a Spanish-themed café, and the bestest museum store around! Salvador Dalí's amazing art truly has a home designed specifically for this collection.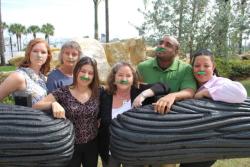 The Dalí Museum is built to protect the priceless art collection. The design has already attracted the world's attention and is listed as one of the top buildings to see in your lifetime in AOL Travel News.
We walked around and had a chance to view some of Dali's most famous work like the The Hallucinogenic Toreador, The Ecumenical Council, and The Disintegration of the Persistence of Memory.
The only thing as impressive as the look of this entire building, is the artwork within the walls, and its a must see museum not only in the Tampa Bay Area, but in the country also!
Me and the gang had a blast and we took plenty of photos, which we'll be posting later, so stay tuned in for that! One thing about the Dali Museum in addition to the major works of arts, are the ongoing events and exhibits! Here's just some of the events going on this month:
Yoga + Dali
Dali & Science Series: Dali + the 4th Dimension
Persistence of Memory Memoir Writing Workshop
Dali & Beyond Film Series: Bunuel's Viridiana

Opera @ the Dali

Our Town: Conversations with St. Pete Mythmakers

- Tim Clemmons
Be sure to check it out for yourself, though as this is one of those must see things to do in Tampa Bay! We'll be back with more fun updates shortly so stay tuned in!