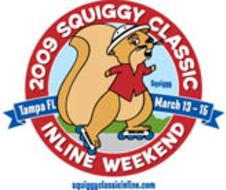 Sorry everyone...I just had to put that title in there!  In addition, with a name like the Squiggy Classic, and in our efforts to bring you the best Tampa Bay area events out there, I just had to share this information with you! 

The 5th Annual Classic Fitness Festival will arrive in Hillsborough County's Wilderness Park on March 13-15 to test participants' athletic skills in one of the most beautiful natural environments in the Tampa Bay area. 

The annual "Squiggy Classic" is a three-day fitness festival for active outdoor enthusiasts that includes trail runs, mountain bike races, road cycling events, adventure races, inline skating and a night canoe paddle. 

Interested in participating???!!!!  Potential participants can call 813-987-6211 or visit www.squiggyclassic.org for event schedules and registration information; entry fees vary per event.

Plus, proceeds from the event benefit Friends of the County Parks, a 501(c)(3) not-for-profit organization that provides financial support to the Hillsborough County Parks, Recreation and Conservation Department.

It's not the beautiful Tampa Bay area beaches, but this is some great Tampa Bay entertainment to enjoy, so head out and enjoy!  I'll be busy with the SEC Basketball tournament, so I can't be out there, but let us know if you plan on attending!  I hear it's going to be a great time, so make sure you at least stop by, if only on your way to SEC fanfare.