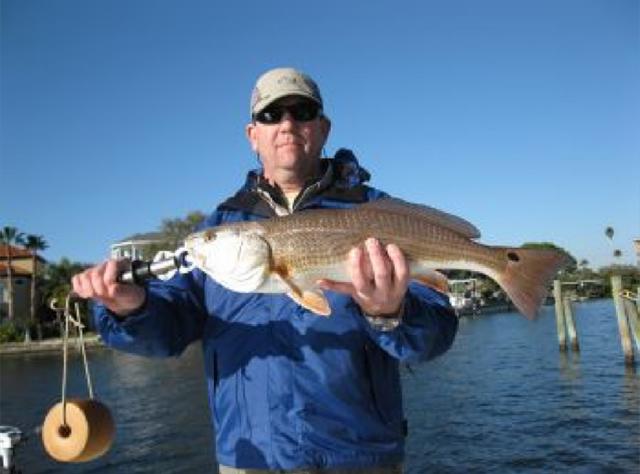 Hey everyone!  We are going to start bringing you a monthly fishing report (or more often if we can manage it), so that all of you outdoor enthusiasts and fish lovers will know what's happening in Tampa Bay! 
Our report will be coming from Stewart Ames from Gone Fishing Charters, so listen up, because he's the expert.  Here's your report for March:
The winter that never ends is still hanging on. The first week of March will deliver evening temperatures in the neighborhood of forty degrees...but the end is in sight. March is always the transition month where winter gives way to spring and this year should be no different.  Mid month is typically the time when spring fishing goes off.  Last year, that magic day was March 12th.  Early indications that improving fishing is on the way were evident during the last week of February.  On days were the weather was "typical" for this time of year with mid day temps approaching the high sixties, the trout bite caught fire.  Several trips yielded healthy double digit numbers of quality sized fish. Fish responded to bobbered shrimp and pinfish but also ate jigs. On days when the bite was a little slower, going to a shrimp rigged with a small split shot would sometimes do the job.  By methodically hopping the shrimp back to the boat along the bottom, strikes could be triggered from these sometime lethargic fish. 
Another effective technique for catching really large trout right now is fishing oyster bars on the higher phases of the tide.  Take a large shrimp on a #1 circle hook and cast it right to the outer edge of the bar.  Simply let this shrimp sit as any large trout will usually find him if given a few minutes.  You'll have no trouble feeling the bump and the pull of these healthy fish when they finally come across your shrimp.  If there is a favorable wind...one that will take your bait along a whole stretch of the oyster bar...shallow bobber your shrimp for an equally effective approach.  Oyster bars will hold heat and these big trout, and redfish, like coming up on them in the winter.
Redfish are really the only other fish being actively targeted at this time but this fishing has been highly unpredictable.  Pre-front days with good tides have been consistently good but beyond this, there has been no solid pattern to finding feeding fish.  There are decent numbers of fish out there but they appear to be moving a fair amount.  Their movement may be explained by the lack of food due to the unusually cold weather.  Although certain food sources such as crabs are still readily available, they may have to search new areas each day after picking one area clean. Whatever the case, the good news is that the fish out there are of upper and over slot size and have even begun to gather in larger sized schools.  One week of solid temperatures in the seventies should ignite these relatively unpressured fish.   Fish have continued to eat shrimp and pinfish on days when they're cooperating.  As mentioned last month, go with a quiet presentation when fishing shallower areas using an unweighted shrimp.  Also consider using smaller hooks and lighter leader in these situations as fish seem to be especially spooky right now.  Weighted cut pinfish is still effective when fishing up under docks. 
Based on all of the above, for those of you who live locally or will be in the area, get your gear ready to go because once that first week of warm weather shows up, fishing should be off the hook.  Good luck and good fishing.
And there you have.  We'll be back next month with another fishing update for Tampa Bay (if not sooner), but if you want to learn more, log on to Stewart's website at: www.tampa-fishing-charter.com. 
Until then, keep checking back for great things to do in Tampa Bay and other Tampa Bay area events!