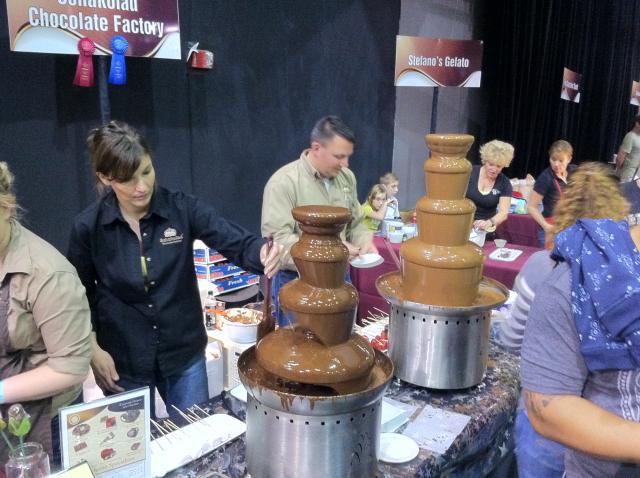 Hey there folks! Jerm here with an update on my trip today to the first of what I hope will be many Festival of Chocolates at the Museum of Science & Industry, aka MOSI!

I got the chance to go out and check out all of the chocolate yummy goodness today, and apparently everyone else in the Tampa Bay are had the same idea, as upon my arrival at MOSI at took me at least 20 minutes to find a parking a space as the entire complex was full to the rim!

I had been hearing stories that the first day was packed, so I figured i could go out and catch less of a crowd. Well lesson learned today was to never underestimate the power of chocolate.

Having said all of that, its definitely worth the wait as you will read in the rest of this post. Once you get there the first thing you have to do is go into the large exhibit room where all of the chocolatiers are, as that will give you some sense of the enormity that you have gotten yourself into.

Its like walking into a chocolate heaven with samples and vendors all over the place. Be sure to get your chocolate coins and get enough of them though as that is how you purchase samples from all of the vendors in the room.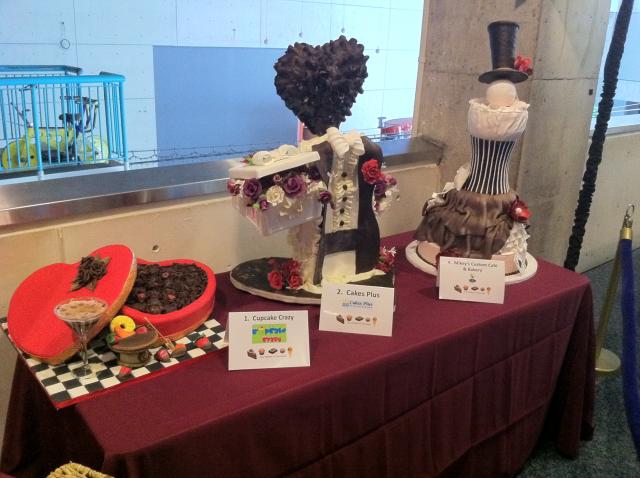 I wish I could suggest to you which one to visit first, but there are just too many to pick one. I myself hit up the Cupcake Spot, A Piece of Cake, Schokolad, and City Street Sweets.

I left with a bag full of goodies and I am sure my trainer at the gym will not be happy with me once she finds out.

Once you leave the exhibit area, be sure to tour the museum as there are demonstrations and exhibits throughout by some of the country's most talented pastry chefs!


Here is the lineup of demonstrations for tomorrow:
10:00 am - The Art of Icing a Cake by Michelle DeMicco, Owner/Cake Artist of Mikey's Cafe & Bakery (45 minutes)
 
1:00 pm -  Making Kid-Friendly Puppy Chow - a Family Project by Chef Steven Rujak of Sweet and Savory Seasons and 2006 US Pastry Chef of the Year (45 minutes) 
 
2:30 pm -  The Science of Chocolate by The Museum of Science and Industry (45 minutes) 
 
4:00 pm - Making (and tasting) of a Mayan Hot Chocolate Drink (using old world methods) and Taste, Touch and Smell Cacao Pod and Beans by Bernie Schaked, Co-Founder of Schakolad Chocolate Factory (45 minutes)
If you are like me then you will leave with a bag full of goodies, a full stomach, and in pure amazement of the process of making great chocolate. I stuffed my belly and learned allot while doing so, which is always a plus!

You got one day left to to enjoy it all, as tomorrow is the last day! Bring the family out and be sure to take advantage of it all as this is the only one this year! Don't worry though, as Jerm will try and flex some muscle to make this an annual event!

That's all for now folks, but be sure to check back soon for more info on Tampa Bay area events and Tampa Bay Dining related updates from Jerm and the rest of the Tampa Bay team!