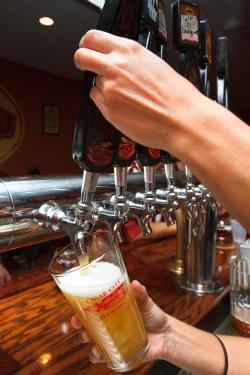 Tampa Bay loves an excuse to drink craft beer and show off our great local breweries, and what better than a whole week to celebrate?
Experience and enjoy Tampa Bay's craft beer culture from March 1 – 9 with multiple events around the area. You can even make it a Tampa Bay Beer Week bar hop!
Saturday, March 1
Westchase
Start early and get your run on with the first annual 5K at World of Beer Westchase at 8 a.m. Of course, you can celebrate with beer and food and afterwards!
South Tampa
Known as "The Ultimate Craft Beer Experience," Tampa Bay Brew Bus will be parking at Yard of Ale Soho for the day and then continue to Pint Night, and you even get a free glass!
Hop on over to World of Beer South Tampa for the release of Bell's Brewery's Hopslam Ale, S'mores & Pours Event and live music.
Hyde Park Village will be hoppin' with 97X Beer in the Park – enjoy food, craft beer and live music from 6 p.m. – 9p.m. Tickets are $25 in advance and $35 at the door.
Tampa Bay Brew Bus tour of Tampa's breweries
The Tampa Bay Brew Bus is also offering a Hillsborough County brewery tour from 1 a.m. – 4 p.m. – showing off the best of Tampa! Tours are $25 per person and include round trip transportation from the Brewer's Tasting Room in St. Pete to five different breweries in Hillsborough County along with Brew Bus Brewing craft beer during the ride.
Stops include: Two Henry's Brewing Co, Cold Storage Brewing, Southern Brewing and Winemaking, Cigar City Brewing, and a new brewery in Tampa that's a surprise!
Downtown Tampa
Enjoy the beautiful weather at the Florida Brewer's Guild Beer Fest from 2 p.m. – 6 p.m. at the waterfront Cotanchobee Fort Brooke Park. Tickets are limited and are $35 in advance online or $45 at the door.
Sunday, March 3
South Tampa
Nurse your hangover with the Colorado Liquid Brunch starting at 11 a.m. at Yard of Ale Soho featuring Colorado-brewed beers.
North Tampa
Visit Cigar City Brewing's amazing brewery for Eggs & Kegs: Former Brewers at 11 a.m. featuring former brewers of Cigar City Brewing returning to honor their roots. Tickets are $40 and include a four-course Latin and Hunahpu-inspired brunch, a CCB souvenir snifter glass and six (5oz) pours.
Downtown Tampa
Stop by Cotanchobee Fort Brooke park again for another great event – the 14th Annual Best Florida Beer Championships Brewers Ball from 12 p.m. – 5 p.m. Find out who makes the best beer in Florida! Event cost is $50 and tickets are limited.
Waterfont – Gandy Blvd
Have a brewski at Tampa Bay's hottest new spot on the water, The Getaway! Join Florida Beer Company for a day on the water with Urban Kai Stand Up Paddle Boarding, beer, food trucks and live music.
For more Tampa Bay Beer Week events, visit TampaBayBeerWeek.com.
Bottoms up, Tampa Bay! Cheers to a great Tampa Bay Beer Week.