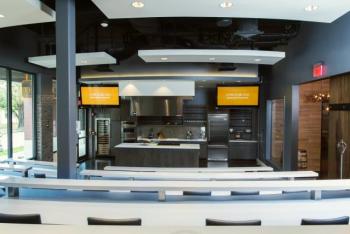 There is no doubt that the new Epicurean Hotel is home to one of the most phenomenal foodie experiences on the planet.  Located in the trendy High Park district of South Tampa, the hotel blends a unique ambiance of flavors as bold and rich as its character and sprinkled with uncommon details making you feel right at home.  Unique, exceptional and conveniently located right across the street from the internationally-known and recognized Bern's Steak House, this boutique food-based hotel offers enough treats to curb any appetite. This foodie-focused hotel features Elevage, a restaurant where classic recipes are re-imagined, Edge Social Drinkery rooftop bar, Chocolate Pi patisserie (home to the most amazing salted caramel macrons), Bern's Fine Wine & Spirits wine shop, Evangeline full-service spa and the decked out Epicurean Theatre.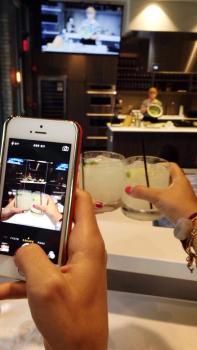 A unique setting to foster education for experts and novices alike, the Epicurean Theatre offers a wide variety of culinary presentations, cooking demonstrations, classes and more. The theatre seats around 40 people and outfitted with three Viking convection ovens, six gas burners and All-Clad cookware (think Food Network studio-like).  Two 70-inch televisions insure that any seat in the house has optimal viewing (with live-streaming for guests in their hotel rooms).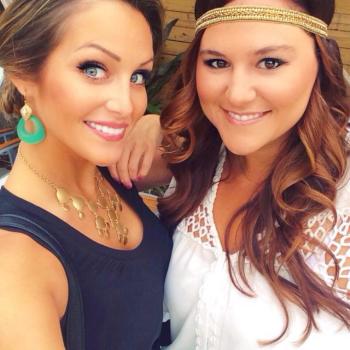 Last night we had the chance to check out one of the culinary presentations, "The History of the Taco" at the Epicurean Theatre, and I must admit it was a completely enjoyable and exceptional experience.  Chef Kate took us through the actual history of the taco (mystery solved…. Tacos originated in Mexico) and her personal take on the dos and don'ts of creating an epic taco.  We started off with a delicious steak fajita taco, grilled to perfection. She showed the class how to make everything from a spice-rub to home-made aioli to techniques on marinating and pickling the onions. The second taco was in honor of her favorite childhood story, Alice in Wonderland…. the rabbit taco, slightly creepy, but I rolled with it.  When she said the world "rabbit taco" most of the audience seemed a little shocked and uncomfortable, but everyone gave it a try and there was no shortage of rabbit tacos left on any of the plates. The class not only provided us with a fantastic dinner, but there were hand-crafted cocktails as well.  A fantastic margarita paired lovely with our steak tacos and a bourbon elixir blended well with our rabbit tacos.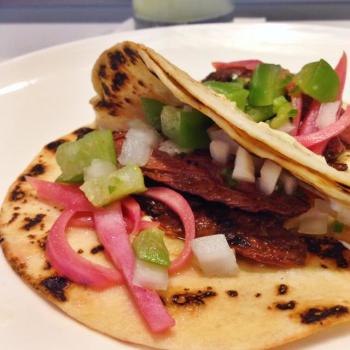 So, basically the entire class had a total of four tacos, and two hand-crafted cocktails and plenty of laughs.  The class was around 2-hours, which was the perfect amount of time and the cost was around $50 a person (most classes range $45-$75).  One heck of a steal if you ask me! Oh, and delivered in our inbox this morning, all the recipes so you can get crafty in your kitchen at home.
It doesn't matter if you are a culinary expert or a master of burning your grilled cheese; these classes are open for anyone and everyone.  A perfect treat for a girls night, guys night and even date night- the unique collection of classes offer anything and everything from wine pairings, to champagne 101 to craft beer, seafood and even whiskey making. 
Check out the Epicurean Theatre schedule here for upcoming classes and awaken your appetites unknown today: http://www.cookingschoolsofamerica.com/epicureantheatre/index.php?page=calendar