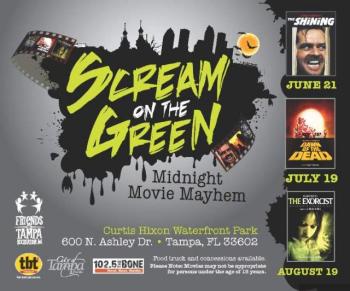 Love horror flicks? You're in luck!
This Friday, July 19, Curtis Hixon Waterfront Park will be hosting "Scream on the Green," a FREE monthly movie series featuring classic horror films!
On the marquee for this week is the 2004 flick "Dawn of the Dead."
If you're not too busy hiding under your blankets, food, snacks and drinks will be available for purchase. You can also bring your own treats along with low-backed chairs (that will permit those behind you to see). Remember though, its SCREAM on the Green, meaning these films are not suitable for children, so leave the little ones at home. Click HERE for more details.
Come discover the true meaning of terror at Scream on the Green, and stay tuned for info on the next movie in the series!
Curtis Hixon Waterfront Park is located at 600 N Ashley Dr. in Tampa. Movie starts at midnight. No alcohol permitted.