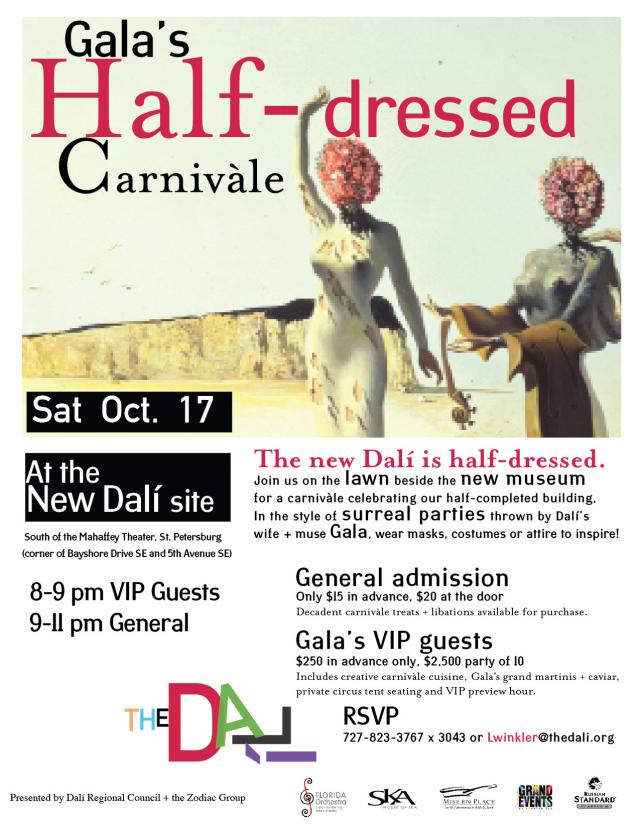 Hey everyone!  Travis here with some great Tampa Bay entertainment news!  If you are a fan of the arts...and even if you aren't...you are going to want to make it out for this. 

You can come out and get half-dressed at the Half-Dressed Carnivàle taking place at the New Dalí Museum site and adjacent lawn, at the corner of Bayshore Dr. SE and 5th Ave. SE in St. Petersburg.  It all happens on Saturday, October 17 from 9–11 p.m.

Here are the details straight from the Dali Museum:
Join us on the lawn beside the new museum for a carnivàle celebrating our half-completed building. In the style of surreal parties thrown by Dalí's wife and muse Gala, wear masks, costumes or attire to inspire!

Half-dressed models will turn heads along with costumed servers and vivid décor. Drama and intrigue culminate with the arrival of a special guest. Food and beverages available for purchase. Presented by Dalí Regional Council and the Zodiac Group. Food and décor by House of SKA, Mise en Place, Grand Events and Russian Standard. Music by Carlitos Corcho (DJ Chang).

This is going to be great!  The cost is $15 per person for general admission.  If you are interested in the VIP treatment, you can get that for $250 per person, and that starts at 8 pm (Includes creative carnivàle cuisine, Gala's grand martinis and caviar, private seating and VIP preview hour).

So, there you have it.  If you need more info, just log on to their website at www.salvadordalimuseum.org. 

Until next time, keep checking back for more great things to do in Tampa Bay and other awesome Tampa Bay area events.