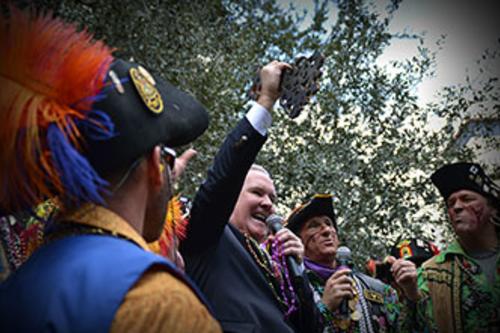 Shiver me timbers! The Gasparilla pirates are coming to Tampa Bay again!
The captain of Ye Mystic Krewe of Gasparilla, joined by his finest mates, will come to town Tuesday with cannons blazing to demand the surrender of our fair city. Will the mayor give in or stand up to this rowdy bunch of seadogs??
The pirate fire the first shot across our bow at 11:30 a.m. Tuesday when they arrive at City Hall to "discuss" with Mayor Bob Buckhorn (above) the advantages in surrendering the City of Tampa in advance of Saturday's historic Gasparilla Invasion. The actual negotiation is rumored to begin around noon, with the Mayor respectfully escorted to meet up with the Captain on Franklin Street, between Kennedy and Madison near Lykes Gaslight Park (and the Tampa Police Department, if things get rough). 
The 2015 Seminole Hard Rock Gasparilla Pirate Fest begins on Friday evening, January 30th with the inaugural Gasparilla Pirate Fest charity concert and pre-Invasion celebration in downtown's Curtis Hixon Waterfront Park.
The Commodores, with Special Guest Atlanta Rhythm Section, will headline the concert.
Tampa's historic, 100-year-old community event continues on Saturday, with the Gasparilla Invasion. The action starts at 11 a.m. with the Jose Gasparilla, leading a flotilla of smaller boats, entering the city and docking at the Tampa Convention Center just in time for the 1 p.m. Invasion Brunch at 1 p.m.
The mayor and the pirates will meet again at 1:15 p.m., and this time, the mayor will surrender the key to the city. The Gasparilla Parade of the Pirates will begin at 2 p.m., running north along Bayshore Boulevard from Bay to Bay Boulevard to downtown. The beads will be flying!
The Gasparilla Invasion kicks off two months of festivals, parades and parties that make Gasparilla Season a great time to unlock Tampa Bay.