Happy Friday Tampa Bay,  Alex here with some updates from the Gasparilla Music Festival Press Conference.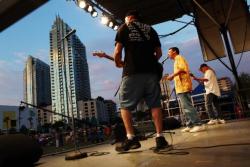 The Gasparilla Music Festival is taking place at Curtis Hixon Park on March 10 from 11 a.m- 11 p.m.
This festival is going to feature 15-20 bands across three stages. The lineup will be: Deer Tick, Rebirth Brass Band, Alvin Youngblood Heart, The Lee Boys, Have Gun Will Travel and Kaleigh Baker. More acts will be announced soon.
Some of the wonderful food at this festival will be provided by local restaurants and vendors, including Fly Bar, Pipo's, Malio's, Sono Cafe, Mise en Place, Tun-du-Ree, Cafe Hey and Holy Hog.
Don't miss out on a fun day of music, great food and wonderful Tampa Bay weather. Get your tickets today by visiting gasparillamusicfestival.com.
Check back with us often for more information on Things To Do In Tampa Bay!