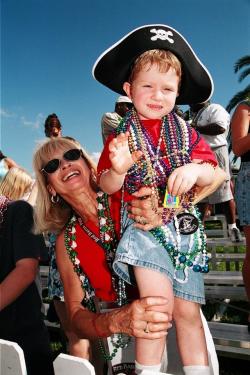 Saturday, the Gasparilla Children's Extravaganza Parade warms up the parade route with around 75,000 people.  The daylong affair kicks off with children's activities along Bayshore Boulevard around 11 a.m.  Here are a few quick tips and helpful hints on making your experience at the parade arrrgreat!
Unlike next week's Gasparailla Parade, this parade if for the kids so no alcohol is allowed.
Children's activities kick off around 11 a.m. and the parade kicks off at 3 p.m. with a LIVE parachute jump "air invasion".
FREE event but you can get reserved seating at www.gasparillaextravaganza.com
This Parade is shorter than next weeks, starting at Bay to Bay Boulevard and Bayshore Boulevard.
Food and drink vendors will be available throughout the parade route so bring a little extra cash.
Get to the parade early to insure you get the best spot, parking and on the parade route.  If you are looking for parking info here are the parking routes and shuttle locations: http://gasparillaextravaganza.com/extravaganza2/parking_shuttle.html
Strollers are allowed.  If you are in reserved seating, you must stow your stroller under the bleachers.
Stay until 7 p.m. for the 23 minute "Piratechnic" Fireworks show and to view Jose Gaspar on the pirate ship sails.
Wrap up, it is going to be a little chilly, compared to the usual Tampa Bay temperature this weekend!