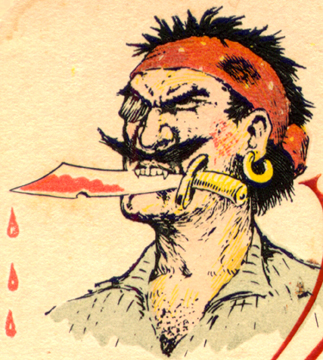 Hi All.  Travis back with more Tampa Bay Entertainment options.  This is another reminder...especially because it has to do with Tampa Bay signature event - Gasparilla!!!!!
Now you can enjoy the rich history of Gasparilla–Tampa's oldest and most fun-loving community festival at the Henry Plant Museum. their new exhibit, Gasparilla: A Tampa Tradition explores Tampa's premier party, attended by a motley crew of the famous and infamous, the beautiful people and bad dudes. 
Find out who they were as they highlight pirate booty and things of beauty during the city's only exhibit of Krewe of Gasparilla memorabilia-coronation robes, ball invitations, programs, crowns and costumes as well as vintage photographs of the invasion, parade floats, pirates and royal courts. Gasparilla: A Tampa Tradition will run from January 20 to February 20, 2011. 
 
Tampa's visitors and local residents will enjoy viewing a wide variety of early memorabilia and original gowns worn by former Gasparilla royalty.  Of particular interest is a 1950's princess gown designed by Anne Lowe an African American fashion designer from Tampa, famous for her one-of-a-kind Gasparilla dresses.  She later gained fame when she designed and made Jacqueline Bouvier Kennedy's wedding gown and bridesmaids dresses.
 
Film footage from the 1920's titled "Memories of Gasparilla Festivals" will be shown continuously.  This footage is from the private collection of the Howell family and reveals pirate capers and images of early parades.   It is narrated by John Boushall, III; H.L. Culbreath, Jr.; L.G. "Ted" Delavergne, Jr.; Jerry E. Fogarty; George B. Howell, III; Fred R. Martin, III; Mary Alsbrook Smith and Frances Thomas Toole. Film footage from Joseph V. Reineman describing the life of a pirate on Invasion Day will also be shown continuously.
 
Over the years, the original Ye Mystic Krewe of Gasparilla has been joined by dozens of new krewes (social clubs), all of which contribute to the general merriment and community pride of the occasion.
And there's more!!!!!!!!
GASPARILLA: TALL TALES & SCANDALOUS STORIES - To kick-off the new exhibit the public is invited to an evening of Gasparilla: Tall Tales & Scandalous Stories with a celebrity panel of past Queens: June Annis, Laura Bentley, Robin DeLavergne, Leslie Dobbins, and Betty Wood, Richard Clarke Sr. will moderate the discussion on Thursday, January 20, 2011 from 6:00 till 7:00 pm in the Music Room, Plant Hall, The University of Tampa.
Free admission. For information call 813-258-7302.
so, make your plans...and I'll see you there. 
And we'll see you back here for more great things to do in Tampa Bay and other Tampa Bay entertainment options.