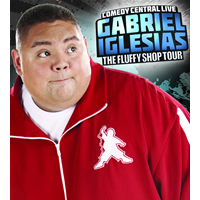 Hey everyone...Travis back with more Tampa Bay entertainment options for you.  We are heading back to the David A Straz, Jr. Center for the Performing Arts for some hilariouis antics.  Gabriel Iglesias will be performing there this Saturday (so you need to get your tickets soon).  Here's the scoop on the show:
Gabriel Iglesias has been described as unbelievably funny, electrifying, and a gifted performer who has the ability to consistently deliver a quality comedy experience in every venue he performs in. His high-octane show is a hilarious mixture of storytelling, parodies, characters and sound effects that bring all his personal issues to life. Gabe's clean, animated comedy style has earned national crossover appeal. Ask anyone who has seen him in concert and you will probably hear the same thing, "He was so funny!".
Gabriel's mass appeal opened the door to a rare opportunity to film a second one hour special and DVD. The new special entitled "I'm Not… Fat I'm Fluffy" Live from El Paso premiered on Comedy Central November 8, 2009. The new show is packed with a perfect blend of impeccable voice skills and an uncanny knack for hilarious storytelling that Gabe is known for. His vast imitative skills re-create numerous sound effects from speeding cars to microwave ovens to a plethora of dead-on voices. The new special is destine to top his previous hugely successful Special/DVD "Hot & Fluffy".
Make sure you head over to www.tbpac.org to get more details...and yes, order tickets.  You'll be laughing your way out of the center that night...
Until next time, keep checking back here for more great things to do in Tampa Bay.