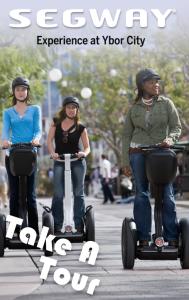 Attention to all of those looking for a fun and unique experience! Segway Experience at Ybor City offers you a one-of-a-kind way to see Tampa Bay…on two wheels!

For only $65 per person, you can choose from three different 2-hour tours:

Historic Ybor Tour
Enjoy a glide back in time on the bustling sidewalks of Ybor City. This historic tour will expose you to the origins of Tampa's Latin Quarter and its beginnings as a cigar manufacturing town. Its skilled Cuban residents rolled some of the finest cigars from the imported Cuban tobacco that was readily available from nearby Havana ports.

You'll learn about this multi-cultural city and the importance of the immigrant communities that created it. At one time a separate city from Tampa, Ybor has always had a rich influence from Spanish, Italian, German, Cuban and other populations who still run the eclectic café's, artist's studios, and shops of Ybor. Ybor brings you a feast for the senses, and you're bound to smell the roasting coffee beans and the fresh tobacco. Ybor is a treat for those who love local restaurants, and who want to revel in "old Florida". As you glide through town with a guide to show you the landmarks and the local flavor, you're easily able to imagine life in Tampa in another era.

The Riverwalk Tour
A refreshing ride along the Tampa Riverwalk. Your journey will take you along beautiful Tampa Bay and you'll learn about the original Indian settlement and Tampa history.
You'll also glide by the St. Pete Times Forum- Home of the Tampa Bay Lightning, Tampa Bay History Center, Tampa Convention Center and the Jose Gasparilla Pirate Ship. The journey continues to Franklin Street's pedestrian mall through downtown Tampa and ends at the ornate Tampa Theatre, a city landmark. On our return, you'll glide along the Hillsborough River with majestic views of the University of Tampa by the Glazer Children's Museum, The Florida Aquarium and Port of Tampa.

Cigar and Café Con Leche Tour
Indulge in the best of Ybor, and savor the coffee and cigars of this famous, almost-Cuban city?
Then let us take you to some of the best stops of the historic tour route, and watch, smell, taste, sit and enjoy. This tour spends a bit less time gliding – and a lot more time savoring this exquisite area! We'll still share all the best history with you, but you'll also visit the Naviera Coffee Mills for "Café Con Leche". The roasting master will demonstrate how Cuban coffee is prepared and you'll walk the roasting line. In keeping with the best of Ybor, you'll also visit the cigar specialty shops to witness skilled rollers. The best cigars are still hand rolled today, as they were back in the late 19th century when Ybor was born.

There's nothing cooler than modern day technology! Segways bring a new edge to the tourism industry and we are so excited to offer this experience here in Tampa!

Segway Experience is located right on 8th Ave at Centro Ybor and you can reserve your tour today by calling (813) 455-7854 or emailing YborCityTours@Segway.com. *Group tour prices are also offered.         
Happy Explorations!