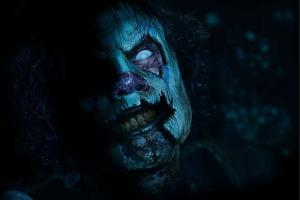 Hello folks! Jerm here fresh off of a weekend visit to one of my favorite annual events over at Busch Gardens Tampa Bay!
If you haven't been to this years version of Howl O' Scream 2012: Dark Side of the Gardens, then I suggest you try and make it this weekend as this is the last chance you will get this year!
Me and some friends headed out to this years installment of Dark Side of the Gardens, and believe me when I say holy cow was it packed!
Apparently we were not the only folks in town looking to have a good time and have the bejesus scared out of us! What makes Howl O' Scream so awesome is that it involves the normal awesomeness of theme park thrill rides, with the fun atmosphere of exploring 7 frightening houses, scare zones, and Club XIII. You won't find yourselves wanting for something to do as you can explore any of the scare zones & houses, ride some of the amazing thrill rides, or simply hanging out at Club XIII.
From my perspective I would definitely recommend starting off the evening at Club XIII and having the "Trickster" drink to start things off. I won't tell you the ingredients for this particular drink, but I will say it is quite tasty and is a great way to kick off the evening!
After that it's pretty much do whatever you like, but me and my crew decided to interchange between going into a house, then hitting up a ride right afterwards, to keep our blood pumping! I say that is the best way to go.
Another tip I can also give is that given this weekend is the last week, It is worth the additional investment to purchase front line fear pass upgrades. As I mentioned earlier, with the popularity of Howl O' Scream, there is the potential for long wait times, but given the pure awesomeness of the event, you should expect that!
So what the heck are you waiting for exactly! Get your tickets now, and be sure to take our advice above! Enjoy, and stay tuned for more Halloween related updates on things to do in Tampa Bay!