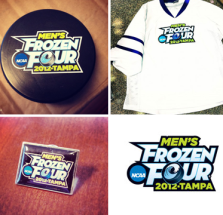 Hello there College Hockey Fans! Jerm here with an update for you on all things College Hockey Rewards, and the NCAA Frozen Four Hockey Championships at the Tampa Bay Times Forum!
College Hockey fans are about as passionate a bunch you can get, so its been awesome to see all the conversations happening on Twitter, and see how excited fans from each school are! The teams will be here today, so be sure to check the schedule out to see where your team and fan headquarters are going to be!
So if you haven't already logged in and started earning points, I suggest you do so, as there are some pretty cool commemorative badges as well as prizes you can win for earning points and getting to certain levels.
So many of you have already earned rewards like lapel pins, hockey pucks, t-shirts and even the grand prize drawing for a Frozen Four Hockey Jersey!
Here are the point totals for what you can, but for how to win these cool items, be sure to log on to CollegeHockeyRewards.com for ways to earn badges and prizes!
 
2,500 points: Frozen Four 2012 Lapel Pin
5,000 points: Frozen Four 2012 Souvenir Puck
10,000 points: Frozen Four 2012 T-Shirt
15,000 points: Chance to win one of two commemorative Frozen Four 2012 jerseys, customized with the winner's name and signed by Frozen Four alum Marty St. Louis
What are you waiting for! Get out there and start earning points. You'll be able to redeem your prizes starting at the Tampa Bay Times Forum West Plaza on Thursday, April 5th between 1:00 p.m. and 4:30 p.m., or on Saturday, April 7th between 1:00 p.m. and 7:00 p.m. at Frozen Fest to claim your rewards!
Be there or be square as we will not be mailing the items! Hope to see you all out there and be sure to keep playing away and sharing!