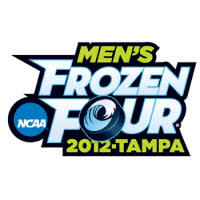 Hey Tampa! In case you didn't know, the NCAA Division I Men's Ice Hockey Championship is coming to Tampa. Oh, and it's the Frozen Four which means the final victor will be announced right here. The format of this tournament is slightly different than the March Madness we all know and love.
The NCAA Division I Men's Ice Hockey Committee has selected 16 teams to enter the tournament. The four regional winners advance to the Men's Frozen Four, and the entire championship uses a single elimination format. The five conference champions are automatically qualified and the remainder of the field is selected at large.

The 16 teams that qualified (in random order) are as follows;
Union (New York), Michigan State, Miami (Ohio), Massachusetts – Lowell, Ferris State, Denver, Michigan, Cornell, North Dakota, Western Michigan, Minnesota, Boston University, Boston College, Air Force, Minnesota Duluth, and Maine. After the regional finals are played the finals (Frozen Four) will be in Tampa on April 5 and 7th at the Tampa Bay Times Forum.  

What a unique and exciting event coming up in Tampa! That's all for now but check in later for more things to do in Tampa Bay!