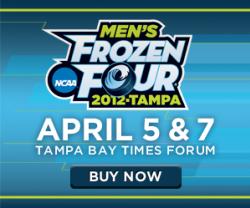 Hello folks! Jerm here with some Frozen Four College Hockey news for you as we draw ever so close to college hockey's premier event!
If you haven't already heard, this past weekend the four teams that will battle it out for college hockey supremacy will descend upon Tampa Bay next week to do battle at the Tampa Bay Times Forum!
New York's Union College defeated University of Massachusetts-Lowell, Michigan's Ferris State overpowered Cornell, Minnesota upset the No. 4 ranked North Dakota and Boston College conquered Minnesota-Duluth to advance to Tampa.

No. 3 ranked Union College will face Ferris State at 4:30 p.m. on Thursday, April 5, while No. 1 ranked Boston College will meet Minnesota at 8 p.m.  The winners of these games will face each other at 7 p.m. on Saturday, April 7 in the championship game.

For more information about the championship, log on to www.NCAA.com.  For more information about the NCAA Frozen Four in Tampa Bay, including ticket information, visit www.NCAA.com/FrozenFour or www.VisitTampaBay.com/FrozenFour.
I don't know about you guys but I am super pumped about this one and can't wait for next week as fans, teams alumni and all will be here to support their respective teams!
We'll be giving you much more information as the days go buy so be sure to check back with us early and often to get all of the latest updates! In the mean time, be sure to get your tickets and we'll see you in Tampa Bay!