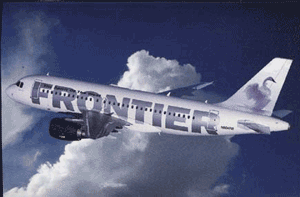 Hey everyone!  Travis back with some cool Tampa tourism information.  Frontier Airlines announced the launch of seasonal nonstop service between Oklahoma City's Will Rogers World Airport (OKC) and two Florida destinations - Tampa and Orlando. Service between OKC and Orlando International Airport (MCO) began Jan. 15 with four weekly nonstop flights. Service between OKC and Tampa International Airport (TPA) began Sunday, Jan. 17 with two weekly nonstop flights.
Here are the schedules for the new service:
Oklahoma City - Orlando
Flight # 1022; Departs at 2:50pm; Arrives at 6:30pm; Frequency - Mon/Wed/Fri/Sat. 
Orlando - Oklahoma City
Flight # 1023; Departs at 12:20pm; Arrives at 2:15pm; Frequency - Mon/Wed/Fri/Sat. 
Not that seasonal service Jan. 15, 2010 - April 17, 2010; Flight departs and arrives 10 minutes later beginning Jan. 31, 2010; and Tuesday service is added beginning Feb. 16, 2010. 
Oklahoma City - Tampa
Flight # 1020; Departs 2:25pm; Arrives at 5:55pm; Frequency - Thurs/Sun.
Tampa - Oklahoma City
Flight # 1021; Departs at 12:05pm; Arrives at 1:50pm; Frequency - Thurs/Sun.
To celebrate this new service, Frontier is offering a low $79 oneway fare between OKC and both Florida destinations. Tickets must be purchased by Feb. 12, 2010 for travel through April 18, 2010. For details, just log on to FrontierAirlines.com/frontier/specials/online-deals.do.
For more in-depth information on Frontier Airlines and to book tickets, please visit its Web site at FrontierAirlines.com.
We have more updates that we'll be back with shortly.  Until then, keep checking back for info about Tampa tourism updates, great things to do in Tampa Bay and Tampa Bay area events.