Hi All, Christina here with the latest in Tampa Bay Entertainment.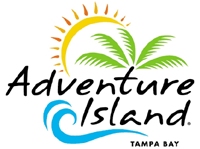 While the sun heats up the day, we here in the bay area flock towards the beautiful beaches to cool off. But, what do we do when the nights are still and warm?
Simple - head over to
Adventure Island
and bask in the Island Nights. FUN!!
Island Nights are theme oriented event held over the weekend at the park; Friday and Saturday night through August 15th between 5 and 9 p.m., so hurry!!
From live music to fire elements at Mango Joe's, an assortment of tangible island food like conch fritters to key lime pie just waiting to be devoured and a live DJ spinning those tunes to set the mood of the Islands.
Being an island girl myself, I would definitely squeeze this into my Tampa Bay Nightlife list. Think about the exciting rides like Riptide, Key West Rapids and Runaway Rapides to give the chilling thrills. Exotic birds, stilt-walkers, beach games and more to make that more enjoyable. The best part - it's for all ages.
So go on over to Adventure Island, it's right across from Busch Gardens and have a blast. And on that note, I shall take your leave.
But, stayed in tuned for things to do in Tampa Bay. Adios.