Hey Tampa...It's Terri P. from Prague, bringing you Friday's update from the World Dragon Boat Racing Championship.  I know I've said it, but I really can't wait until this comes to Tampa in 2011.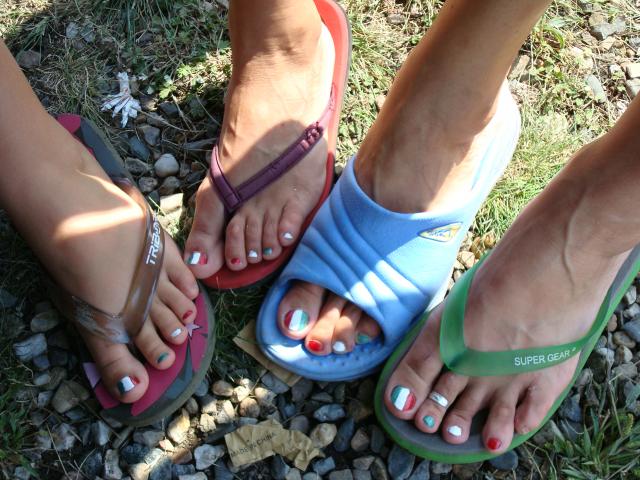 So each morning we head off to the course.  It takes us  45 minutes to get there in the morning and about an hour in the evening due to rush hour traffic.  Even though the event says it is Prague, it is really Racice which is FAR away.  Kind of like driving to Orlando each day and then back.   
Kind of slow today except for the few highlights.  First up, the women paint their toenails in their country flag colors.  I have provided Hungary for you.  They are lovely.  Saw Czech, Prague and the US in this fashion statement.  Clearly I didn't get the memo before I left Tampa.
We do get lots of business when teams are waiting for their starts – they jump in our tent to stay out of the sun.  We chat them up about our course and show them what Tampa has to offer.  See the picture of the German grand master team in our booth.   They have no place to go.  A very good audience I might add.
Actually we have done very well collecting information from our free paddle give away.  I actually had a lady today from Canada, that said she didn't want any of our free stuff, just information about the World Championships in Tampa which meant she got a Championship brochure, a map and a travel planner.
Really, it happened! No lie, it happened.  Mostly we are collecting entries for the raffle.  You can see three Russians using each other to fill out their forms.  Very coordinated I might add.
We finally had to leave to get to the Hotel Duo where we were practicing for the presentation tomorrow.  We have set a breakfast for 7:30 and then the Congress starts at 9am.  We will be there at 7am to be ready for our guests.  
I finally met Petra Kamenski today. She is the very nice lady who has helped me out with the breakfast, AV and yes, me getting grits on the menu.  I brought them in my suitcase all the way from Tampa.  I cannot confirm how they will be cooked but hopefully they can the read the directions on the box.   
Just wanted my boss to feel like home – some grits at breakfast.  Ok...off to finish off the night.  Got a busy day tomorrow...wish us luck!