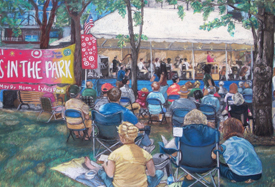 Travis back with more Tampa Bay area events for everyone to enjoy.  The Florida Orchestra has their Pops in the Park Concerts for all of Tampa Bay to enjoy.  Here's the scoop on the next event:
Enjoy free Pops in the Park Concerts under the stars with your Florida Orchestra, offering a fun mix of familiar symphonic and pop favorites with Stuart Chafetz conducting. They will take place -
Friday, April 23 at 7:30 pm: at Compton Park at Tampa Palms located at 16101 Compton Drive in Tampa; hosted by Tampa Palms Owners Association
To get more information and updates, just log on to http://www.floridaorchestra.org/event_info.asp?id=96&utm_medium=email&utm_source=peer360&utm_campaign=AprilMediaCalendar&utm_content=0910OfNoteEmailHeader
You can bet you'll see me out there!  And I'll see you back here for more great things to do in Tampa Bay.