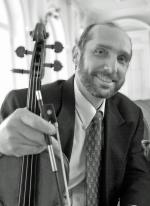 Hi everyone.  Travis here with some great, FREE Tampa Bay Entertainment options for you.  The Patel Conservatory will offer a FREE master class with University of West Florida Professor and Director of Strings and Orchestra Leonid Yanovskiy on Tuesday, March 6 at 8 p.m. for Patel Conservatory students and the general public.
Prior to the master class, participants are invited to bring instruments and join in the open rehearsal of the Patel Conservatory Youth Orchestra classes for the Intermezzo Orchestra from 5 to 6:30 p.m. and the Patel Conservatory Chamber Orchestra from 7 to 8 p.m.
Originally from Russia, Yanovskiy graduated from the Moscow Gnessin College and Academy of Music, where later he taught violin and chamber music. As violinist with the Moscow Concert Chamber Orchestra and principal violinist with the Chamber Orchestra Northern Crown, Yanovskiy toured extensively throughout the former Soviet Union.
After immigrating to the United States in 1990, Yanovskiy received his doctorate from Rutgers University, where he studied with members of the Guarneri Quartet, Arnold Steinhardt and Michael Tree. In 1990 to 2007, he was a violinist with the Orchestra of St. Luke's, New York City. In 2004 and 2005, he was concertmaster with the New York City Washington Square Festival Orchestra.
 
There are no prerequisites for participating in this FREE (Again, it's FREE) master class or in the open rehearsals. Pre-registration is not required. For more information, call 813.222.1002 or visit www.patelconservatory.org.
Have a great time and let us know how it went.  See you soon for more updates about great things to do in Tampa Bay.