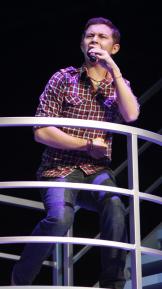 Hey y'all! Erica here to announce that American Idol's Season 10 winner and country superstar, Scotty McCreery, will be playing a FREE concert at the Dallas Bull on Wednesday, June 20.
The American Idol Winner will be performing Live on the Dallas Bull Stage, Join us on Wednesday for this FREE Show. Presented by US 103.5 FM
    Doors open at 7pm
    FREE Show
    Be sure to spread the News!
With chart-topping hits like "I Love You This Big," "Trouble with Girls," and "Water Tower Town," it will be a jam-packed country music party.
Doors open at 7:00, and you must be 18 to get in. Put on your cowboy hat, and bring your friends. It's a country concert you do not want to miss!
For more information on more concerts in Tampa, go to visittampabay.com/visitors/calendar-of-events/ Yee Haw! That's all for now, but be sure to stay tunbed in for more updates on things to do in Tampa Bay!