The heat. The rain. The humidity. We're all feeling it and so are the countless Florida brides hosting outdoor weddings this month. We know all too well that while brides in the Sunshine State can plan nearly every detail of their day, they can't control the elements.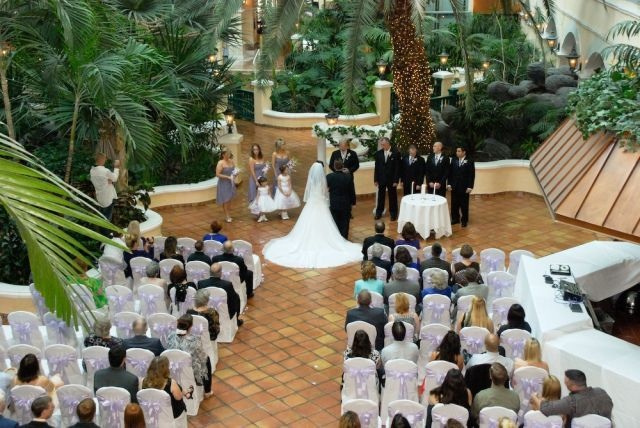 With some creativity, you can have the gorgeous, tropical ceremony of your dreams with an outdoor feel without putting down money for a backup venue, forking over extra cash for outdoor tents or crossing your freshly manicured fingers and toes hoping that it doesn't rain. Where? The revamped and lushly landscaped eight-story tropical atrium at the Sheraton Suites Tampa Airport Westshore is one of a few select Bay-area venues that can pull this off effortlessly.
The tropical atrium, the only one of its kind in the Westshore District area, features the largest indoor screw pine in Florida and Canary Island Date Palms, among other tropical plants and water streams. The atrium is being refurbished as part of the hotel's multimillion-dollar renovations scheduled to be complete in November.
Wedding planners and brides will enjoy the many opportunities to turn the atrium into an outdoor wonderland. Features brides and event planners will enjoy:
The climate-controlled tropical atrium available for ceremonies and corporate events (networking mixer, anyone?)
The convenience of a 6,000-square-foot ball room to fluidly transition event festivities from the atrium to the reception hall
Out-of-town guests can stay at one of the all-suite hotel's revamped guest quarters featuring custom Sheraton Sweet Sleeper beds, hardwood floors, 32-inch HD flat panel televisions and more.
Complimentary transportation to the airport and attractions within three miles of the hotel Happy planning!
Feel free to stop in and see the inside of the new Sheraton anytime, or check out our Web site at
http://www.sheraton.com/tampaairport
. Stay in the loop with Tampa Bay hotel updates by continuing to monitor this blog.