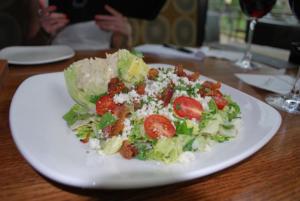 Today's Dine Tampa Bay "Foodie Friday" sneak peek comes from Cooper's Hawk Winery and Restaurant located by International Plaza in Tampa.  This national winery which opened in Tampa in March, will feature a $25 three-course prix-fixe menu during Dine Tampa Bay Restaurant Week featuring some of its signature dishes.
The restaurant features handcrafted wines with pairing suggestions for all dishes, upscale yet casual dining, full-service bar, Napa-style tasting room and retail gift store.  This week, we had the chance to dig in and preview some of the Dine Tampa Bay menu items.
For the first course guests are given a choice of a Chopped Wedge Salad, Chicken Pot Stickers or multiple soup selections.  We were lucky enough to try two of the three options and we chose the Chopped Wedge Salad and the Chicken Potstickers.
The Chopped Wedge Salad is a signature dish at Cooper's Hawk.  Garnished with red onion, sweet grape tomatoes, blue cheese crumbles and warm apple wood smoked bacon and even those who are not huge fans of blue cheese will surprisingly enjoy this tasty combination.  The red wine herb vinaigrette along with the creamy Salemville blue cheese balances the salad well without your palate being too overwhelmed.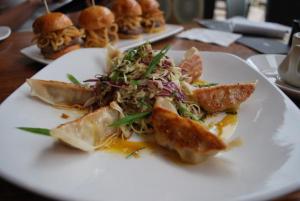 The Chicken Potstickers were amazingly delicious! Full of flavor with chicken, ginger, cabbage and sesame and served with a sweet and spicy mustard sauce then drizzled with their classic ginger soy sauce, a very tangy treat that finishes off the dish well.
Moving on to the second course, we opted for the Maple, Mustard, and Pretzel-Crusted Pork Medallions and the Gnocchi Carbonara which were both favorite menu items of our server.  The third option was the Soy Ginger Salmon, which we are sure seafood lovers will enjoy!
The Pork Medallions were glazed with a maple, mustard and pretzel crust and plated with Mary's Potatoes, signature whipped potatoes with butter and cream, and jumbo asparagus.  Foodies (especially pretzel lovers) will love the uniqueness of this dish.
The Gnocchi Carbonara, was the biggest hit at the table!  The gnocchi, a house made ricotta dumpling, was tossed in a rich creamy parmesan garlic sauce with crispy pancetta, rotisserie chicken, sage and fresh peas.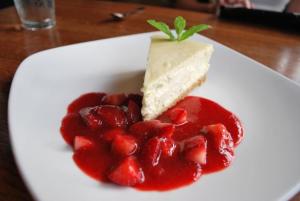 Finishing up we had a battle to decide between the three dessert choices.  The third course offers a choice of Cheesecake with Fresh Strawberries, Cooper's Hawk Signature Chocolate Cake or a Classic Crème Brulee.  We opted for the Cheesecake since the menu said it was the "Best Cheesecake in Town." We can officially say it lived up to its title and even though we were completely stuffed, no crumb was left behind!
Overall, this was an amazing dining experience and a must-try for everyone, even the regulars and the $25 Dine Tampa Bay menu is a deal!  Our suggestion is to get there about 30 minutes early to take part in the tasting room experience.  Make a reservation today on Dine Tampa Bay's website through Open Table.
Stay tuned for more foodie features as we unlock the flavors of Tampa Bay's culinary scene!
Cooper's Hawk Winery & Restaurant
4110 West Boy Scout Blvd., Tampa, FL 33607
813.873.9763