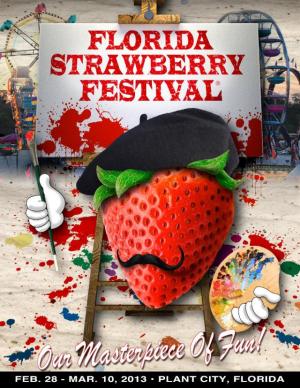 Freshly made strawberry shortcake, an exhilarating midway with carnival rides, games and delicious treats along with an entertainment line-up featuring today's hottest acts can only mean one thing – Plant City's Florida Strawberry Festival is well underway! Ranked among the Top 40 Fairs in North America, this year's festival opens on Feb. 28, and continues through Mar. 10, 2013. Each day the fun starts at 10 a.m. and ends at 10 p.m. so you'll have plenty of time to try strawberry pizza and so much more.
Country megastar Blake Shelton, 2013 Academy of Country Music Awards nominee for Entertainer of the Year, will be among the headline acts at this year's 78th festival. The stage is set for more than just country stars with classic rock acts like Chubby Checker, Foreigner and Bret Michaels to the gospel group, Casting Crowns.
Some of the acts include:
Jimmy Sturr, 3:30 p.m. Feb. 28 (FREE)
Chubby Checker, 3:30 p.m. Feb. 28
Foreigner, 7:30 p.m. Feb. 28
Casting Crowns, 7:30 p.m. March 1
Justin Moore, 7:30 p.m. March 2
Alan Jackson, 7:30 p.m. March 3
Bobby Vinton, 3:30 p.m. March 5
Martina McBride, 7:30 p.m. March 5
Neal McCoy, 3:30 p.m. March 6
Trace Adkins, 7:30 p.m. March 6
Brantley Gilbert, 7:30 p.m. March 7
Scotty McCreery, 7:30 p.m. March 8
Blake Shelton, 7:30 p.m. March 10
To see a full list of musical acts click HERE.
Please Note: There are a limited number of FREE seats available in the EYE EXPRESS Free Grandstands. Availability is based on a first come, first seated basis. For the full entertainment lineup with dates, times and ticket pricing, please visit www.flstrawberryfestival.com.
For helpful tips before you plan your trip to Plant City's Florida Strawberry Festival, please visit www.flstrawberryfestival.com/helpfultips2012.pdf
The Florida State Strawberry Festival is located at 303 North Lemon Street, Plant City, FL 33563