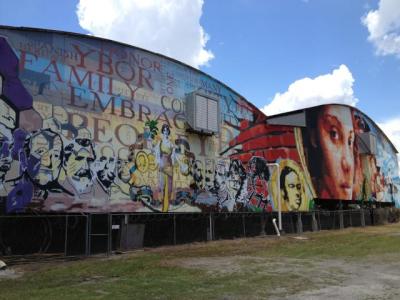 Ybor City is now home to Florida's largest public mural. At 12,000 square feet, the Ybor City mural project has taken over three years to complete on the side of an industrial building on Adamo Drive. The mural was inspired by the Ybor City National Historic Landmark District's past, present and future.
The muralist Michael Parker designed it to represent three integrating themes and six messages. A community effort involving volunteers, art students from Hillsborough Community College's Ybor Campus and support from many local businesses, the City of Tampa and Ybor City Development Corporation, the mural was introduced to the public on May 21.
The integrating themes include the Journey through Life, the Conflict between Tradition and Progress and the American Experience. The images in the mural were all carefully thought-out and beautifully recreated; including local ties such as "El Reloj", the iconic clock on the J.C. Newman Cigar Factory; the Tampa Skyline; and Dr. Frank Adamo, an American Hero who the street is named after.
This mural is a representation of the real Ybor City and was a part of David Scott's vision (chairman of the board of the Ybor City Development Corporation) to bring Ybor City back to prominence for Tampa. Ceck out the full story of the mural at YborArtProject.com.